Sean Collier, the 26-year-old Massachusetts Institute of Technology police officer shot to death Thursday night on the Cambridge, Mass., campus, was memorialized online Friday as an outdoors lover.
As news of Collier's death spread, the Boston area was locked down while police mounted a massive hunt for one of two brothers they linked to the killing and to the Boston Marathon bombing. Unable to gather in person, many people in the MIT community took to the Internet to memorialize Collier.
MIT's homepage went dark as they dedicated it to their fallen officer: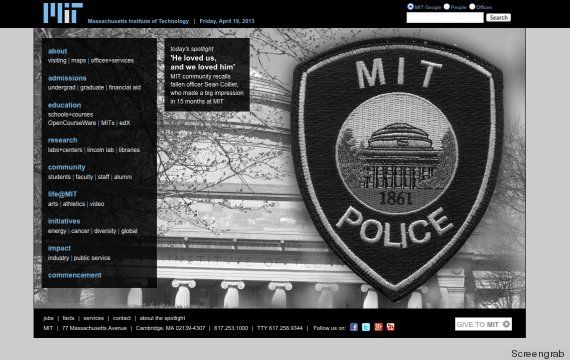 (Click here to read a profile of Sean Collier)
A webpage on MIT's domain was set up to collecting donations for Collier's family. The MIT news office said his family requested donations be made to the Jimmy Fund, a group that supports cancer research.
Members of the MIT community spent Friday posting anonymous comments with their memories of Collier on a Tumblr page. Many described Collier as an outdoors lover and shared photos of him hiking and mountain climbing. He was involved with the MIT Outing Club, which the group noted on its website Friday.
Here are some of the remembrances on the Sean Collier Memories Tumblr:
Students Remember Deceased MIT Officer: Sean Collier
"Sean (in red jacket) and friends on top of Cannon Mtn."

"Sean on Mt. Washington, NH MITOC Winter School 2/3/2013"

From the end of a post on the Tumblr page: Sean, I'll always remember our last handshake the day before you left us, at the staircase of 77 mass ave, and our promise we'd climb up our `staircase to heaven' again next week!!! You will always climb with us!

A portion of the post shared by someone named Sarah.
People also shared their thoughts about Collier on Twitter:
@Andruzzi63

Joe Andruzzi
Thank you MIT Police Officer, Sean Collier, 26, for your service and sacrifice while protecting us all. God bless
@astoldbygingee

liz olson
Just when I thought it couldn't get any closer to home, Wilmington lost one of their own. Rest in Peace Sean Collier
#thoughtsandprayers
@jacquimduffy

Jacquelyn Duffy
Sean Collier was a great man, let's remember him as being a courageous and bright young officer
#RIP
#BostonStrong
WAKA Kickball, a Boston area kickball league, said on Facebook that Collier usually played with his team, Kickhopopotamus, on Sundays. "Our thoughts and prayers go out him, his family, friend[sic], teammates, and those who knew him."
Beyond the Internet, Wicked Local Somerville reported a group of Tufts University students who lived across the street from Collier draped an American flag from their balcony.