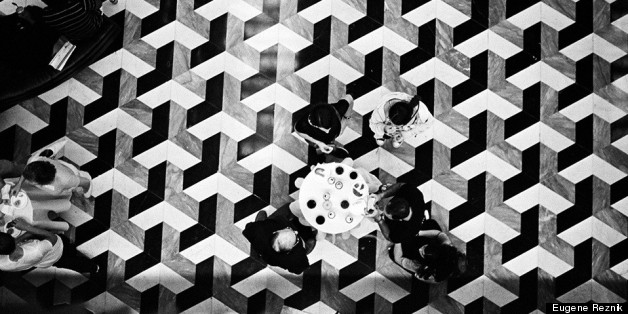 Anyone can tell you who's already made it, but HuffPost Arts & Culture's On Our Radar series is here to tell you who's about to blow up -- and, in some cases, go pop.
Once you get a glimpse of Eugene Reznik's black-and-white photographs, it's hard to get them out of your mind. Slanted lines and angled shadows alienate the Brooklyn artist's lonely subjects in weighty geometrical compositions. (Scroll down for the interview and photos.)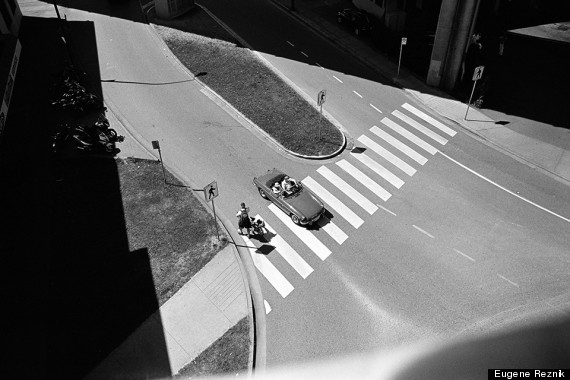 The Huffington Post: Who or what was an early influence on your work?
Reznik: I remember an art teacher probably early in high school showing me the Chuck Close big self portrait from 1968. It was an incredible, nine-foot tall hyperealist acrylic on canvas. It really stuck with me. It was both grotesque and brutally honest.
HP: Why do your photography projects matter?
Reznik: I've come to learn that being creative and making my own things keeps my head on straight. And this type of analog photography was a way to practice and develop a craft, and at the same time, I could use it as medium to tell stories. It was another way to get at this larger narrative exploring the themes of travel, transience and the "psychogeographic driftspace" -- a phrase I misappropriate from the net artist Mark Amerika, author of "Meta/Data" -- which, in short, is a landscape ever changing (or being created) by the subjective experience thereof, by the interplay of movement and cognition, of location and association. That's a story very important to me and it's been a long, slow process developing it.
HP: What were the lowest and highest points in your career so far?
Reznik: A low point: Although I was grateful for the assignment, I did one time take an unpaid gig covering a community board meeting in Brooklyn for the hyperlocal blog of one of the major newspapers. Needless to say, it wasn't exactly the most gripping report, nor the most photogenic scene there at the public gymnasium in Fort Greene.
The highest point thus far had to have been when TIME Magazine commissioned me to write a feature on 40 years of color work by Sam Abell for the LightBox blog. After I had started taking pictures, I wrote more and more professionally about photography and I guess it's because I could empathize, I had a better understanding of the task and what the photographer was up against. Abell's work I could really associate with; his imagery and his process [was] very slow and restrained and thoughtful. In the end, he gave a very considered response not only to my piece, but to my own photographs as well. And to have that kind of living legend tell you your writing had lived up to his pictures, there's really nothing like it.
HP: What are you obsessed with right now outside of music?
Reznik: Photography is my passion but writing is more of my calling. I'm really into experimental fiction and trans-media. I think images have a narrative quality that not only tell a story but are excerpted from one.
HP: Can you name a photographer you are embarrassed about not knowing?
Reznik: The photographer who has had a profound affect on me is Eugene Richards, and I hadn't known about him until college. I found his work in a monograph in the NYU library called "American's We" which was quoting from Robert Frank's "The Americans." He has a style that I love that allows you to gain access to private moments by really getting up in people's faces. It was his ability to quote other people's photos, not just as an homage, but the photographic equivalent to intertextuality.
HP: How would your childhood art teacher describe you?
Reznik: Meticulous, most likely. And a close observer. I have a strong attention to detail, and that's why the nine-foot tall hyperrealist painting [by Close] stood out to me. Every detail was perfect.
PHOTO GALLERIES
Eugene Reznik