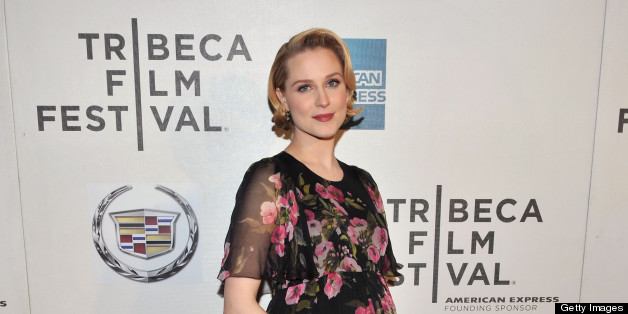 Evan Rachel Wood is truly embracing pregnancy.
The 25-year-old actress, who is expecting her first child with husband Jamie Bell, chatted with HuffPost Celebrity at the premiere of Justin Long's new flick "A Case of You" at the Tribeca Film Festival on April 21, confessing that though pregnancy is wonderful, it's not a walk in the park.
"It's been a whirlwind roller coaster, it's been amazing. [But] it's not easy," Wood told us, admitting that she was nervous about the thought of giving birth in the beginning. "I've been through the gamut of like fear and excitement, but now I'm very calm and very ready. I feel really good."
She's also enjoying dressing her bump, showing off her belly in a floral Dolce & Gabbana dress as she strolled down the red carpet last night. And Wood admitted she's loving her new shape.
"I was excited once I popped because it's really something you can hold and be proud of and I've just kind of embraced all the mini changes that happen," she said, "so I'm enjoying it."
Wood does know the sex of her child -- and she's "very, very excited" about it -- but would rather keep it a secret. Still, she was willing to talk about her plans for the baby's nursery.
"I am designing the nursery right now. It's going to have kind of like a Bohemian, Indian kind of theme to it," she explained to HuffPost. "I figured I'm probably going to have to spend a lot of time in here -- it's not going to know what's going on -- so might as well."
As for her pregnancy cravings, Wood admits they've been a little strange.
"I've been really tired and gone through different cravings, but nothing really weird has happened," she said. "Pickled onions may be the weirdest thing I've craved. Oh man, I couldn't get enough pickled onions."
For now, Wood is trying to stay relaxed and prepare to become a first-time mommy. She's also making sure to exercise and keep those maternity muscles moving.
"I have been doing yoga and walking, you're supposed to walk like five times a day," Wood explained, before tripping a bit while heading off to her next interview.
"You're also very clumsy when you're pregnant!" she laughed.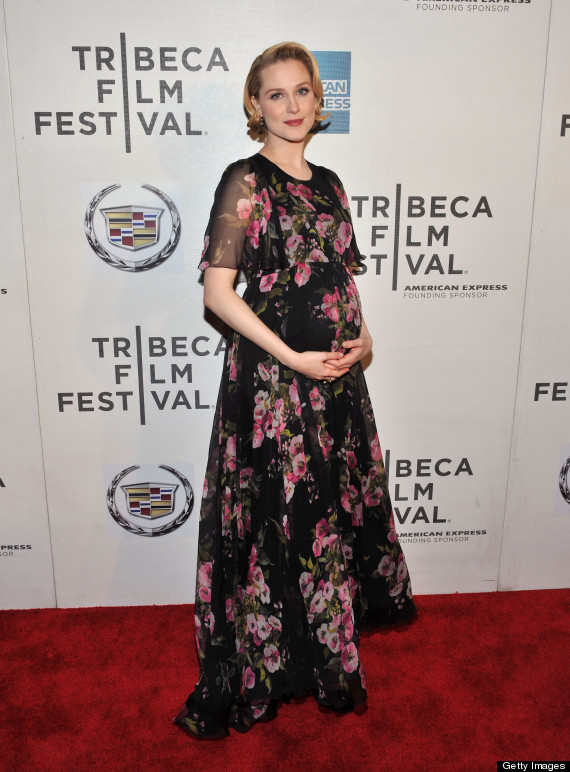 ALSO ON HUFFPOST:
PHOTO GALLERIES
Celebrity Babies On The Way