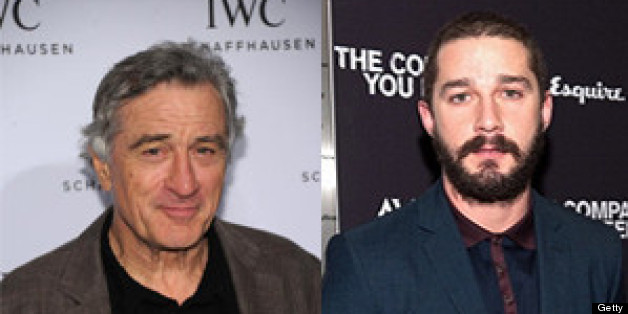 Robert De Niro did his stint as "The Godfather," but the 69-year-old actor may soon take a turn as a father, to none other than Shia LaBeouf.
De Niro and LaBeouf are in talks for an upcoming Paramount film, "Spy's Kid," which would have DeNiro playing father to LaBeouf, THR reports. Paramount is courting D.J. Caruso ("I Am Number Four") to direct the film. Caruso, who recently led "Standing Up," has worked with LaBeouf before, directing the actor in 2007's "Disturbia" and 2008's "Eagle Eye."
THR reports that "Spy's Kid" will serve as the screen adaptation of a 2011 news series from The Oregonian on Jim Nicholson, a spy who used his son to continue his legacy.
LaBeouf recently wrapped "Nymphomaniac," an upcoming pornographic drama which the actor simply described as "something different." For his part, De Niro is working on multiple upcoming projects. The actor is a part of David O. Russell's next project, "American Hustle," as well as "Grudge Match" with Sylvester Stallone.
For more, head over to THR.
PHOTO GALLERIES
Celebrity News & Photos