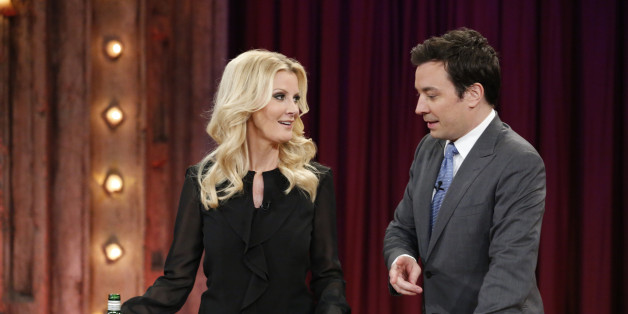 Sandra Lee stopped by "Late Night With Jimmy Fallon" recently to make cocktails and talk grilling recipes. Everything was pretty much going as we expected it would (huge smiles, supposedly charming anecdotes about her boyfriend Andrew Cuomo grilling frozen chicken, etc.), until she started making Jimmy's favorite cocktail.
Jimmy Fallon, bless his heart, is not that imaginative of a drinker -- his favorite cocktail is a gin and tonic. Lee, ever an innovator, decided to "punch it up" by grilling a few limes, dumping in some bitters and instructing Fallon to pour in a totally unmeasured, rhinoceros-sedating amount of gin. Look, we'll let Sandra design us a tablescape someday if she really needs something to do, but she'd better stay away from our gin and tonics.
The combination of the brown bitters and brown caramelized lime made this drink look like what we can only describe as puddle water. It does seem like Fallon was pretty excited about it, though, so maybe Lee was just appealing to her host's tastebuds. Someone make sure Jimmy gets home alright.
Want to read more from HuffPost Taste? Follow us on Twitter, Facebook, Pinterest and Tumblr.
ALSO ON HUFFPOST:
PHOTO GALLERY
BEFORE YOU GO
Cocktail Twists
PHOTO GALLERY
Cocktail Twists