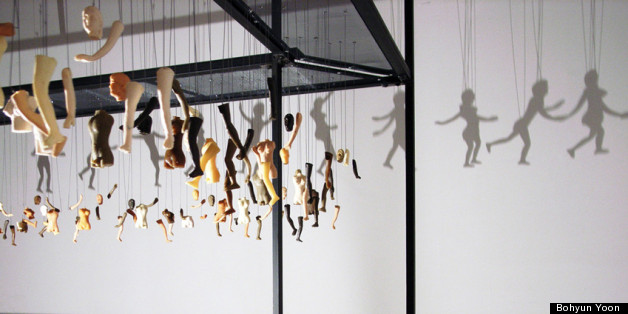 At first glance, the installation artworks of Korean artist Bohyun Yoon appear to be merely suspended doll parts dangling in mid-air in an empty gallery space. Upon further investigation, however, the shadows behind his work come into focus, revealing a barrage of kinky imagery not safe for work.
Two of Yoon's installations -- "Unity" and "Structure of Shadow" -- employ this clever optical trick, in which the artist carefully places dismembered toy arms and torsos to construct a series of lewd scenes on the exhibition walls.
Here's what Yoon had to say about his piece in an email to The Huffington Post:
"The piece [suggests] even our pleasure or our sexual desire are controlled by an invisible power."
Scroll through the photos and video below for a peek inside the exhibition, and let us know what you think of Yoon's X-rated art in the comments.
SUBSCRIBE TO & FOLLOW CULTURE SHIFT
Level up. Read THIS and be the most interesting person at your dinner party. Learn more