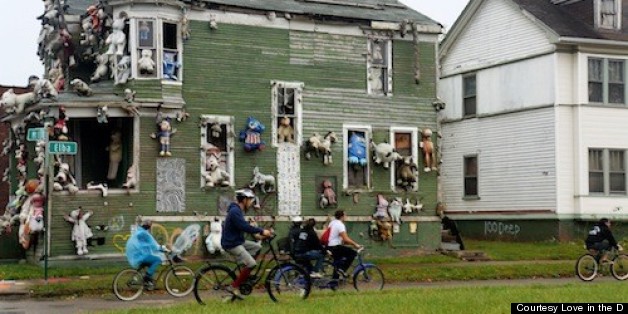 This post comes to us courtesy of Love in the D.
Heather Earnley and Guy Samuels unleashed their creative minds on their wedding weekend with the ceremony, dance party reception, and bike ride on different days. I love the multicultural combination of Detroit and Hamtramck caterers that Heather and Guy booked for their wedding. The photos of the bike ride and the printed materials that the bride designed herself show how this couple was able to make their wedding uniquely their own!
Originally, Heather and Guy were to be married a few weeks before the reception weekend. But when they learned that Guy's father would be able to come into town from Miami, they decided to have the wedding ceremony during the same weekend so he could be present for everything. Heather said: "That made everything a little more chaotic, but I wouldn't change a thing to be able to share that with Guy's father!"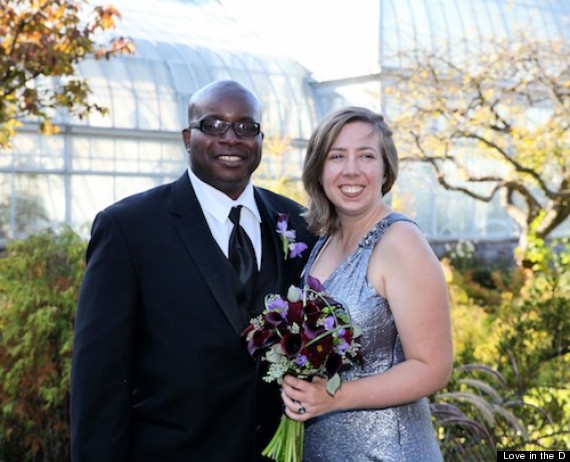 How did you give your wedding guests a "Detroit experience?"
Most of our family do not hang out in Detroit, and only about half of our friends do, so we wanted to have a few events that introduced everyone to the great things that we do all the time, and are unique to Detroit. We wanted to sort of use our wedding as a showcase to spoil our friends and family with cool experiences. We wanted to use some of our favorite local restaurants for our food instead of hiring a caterer. It was also important to us that we had an organized bike ride. Biking is such a great way to see the city and much more immediate than riding around in a car. A lot of people who did the ride had never ever heard of the Cut or knew about the new murals in Eastern Market and stuff, so it was great to introduce that.
Guy and I love to ride our bikes through the city, and we wanted to share that with our friends and family. Plus, we had a fair amount of people coming in from out of town and we wanted to make the trip memorable. We wanted to showcase the Riverwalk, the Dequindre Cut, the new Eastern Market graffiti, Belle Isle, and the Heidelberg Project..
See more photos from Heather and Guy's wedding -- plus more socially-conscious weddings around town -- at Love in the D.
PHOTO GALLERIES
Detroit Wedding Locations