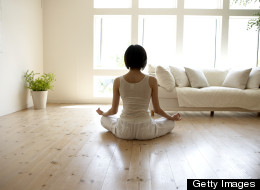 Sure, soaking up the sun on an exotic beach or a fabulous dinner at a quaint little bistro in Paris sounds euphoric, but let's face it: It's not always in the budget.
Don't fret. There is some magic to be had turning your few days off from work into the relaxing staycation you've been craving. Just because you didn't have to take a train, plane or automobile to arrive at your destination doesn't mean you can't kick up your heels and pamper yourself.
Follow these tips from editor-in-chief of Recessionista.com, Nicole Lapin, and make this little trip a staycation to remember.
Tips For A Relaxing & Affordable Staycation
Satisfy the junk food craving and stay healthy by setting out all the fixings for make-your-own pizza: whole wheat crust, skim-milk mozzarella, basil, and fresh veggies. And, okay, homemade margaritas or sangria can't hurt either. It's also a great bonding experience for you and your loved ones. Keep it classy and set the table with cloth napkins and decorate with tea lights.

Staying in the city but looking to get to the other side of town… or another town? Play frequent stops to your advantage. Check out your transit line's schedule to see when the fares increase along your route. If the price goes up just before your stop (or down just after), hop off early or a little late and stroll the rest of the way home. You get sightseeing and exercise, and you accomplished your goal of checking out that museum, concert or hot new restaurant!

We're usually big proponents of using your debit card but whether traveling overseas or staycationing, you might want to stick to hard plastic. Your credit card usually offers a better rate than your bank debit card because Visa, MasterCard and American Express use their size to push for the best deal – and you'll get points back that can be turned into points for prize redemption or cash later on!

You don't feel guilty printing every Groupon offer for the spa or a dinner deal for girl's night out, so why feel guilty about bringing one along on your next date? You might be thinking "tacky," but you're wrong — instead think "thrifty." Print the coupon out and hand it to the waiter before you sit down and get the deal without having to pull that awkward piece of paper out of your purse at the end of the night. Not only will you look like a savvy Recessionista, but you will also earn some major points with your loved one who is paying for your dinner.

We're all about "pay as you go" gym memberships which can be purchased at many gyms in packs of 10 or 20. Not only are they a cheaper alternative to a full membership, especially while on a staycation; they're also a better value because you're not paying for the days that you don't use them. OR if you're not into gyms, buy a great health and fitness book, like Liz Vaccariello's The Digest Diet. She has an entire chapter dedicated to do-at-home exercises that require no money and no costly equipment, as well as healthy recipes that are easily prepared and give you quick results!