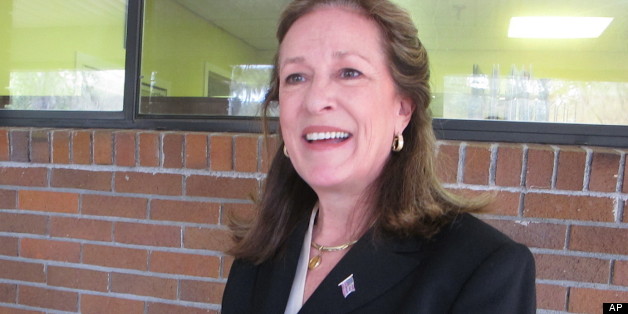 WASHINGTON -- Elizabeth Colbert Busch raised $874,065 over the past two months in preparation for her special election matchup against former South Carolina Gov. Mark Sanford, according to a report filed on Thursday. Colbert Busch, a Democrat, is running against Sanford, a Republican, in a special election for the House in South Carolina's 1st district, where Sanford formerly served as U.S. representative.
The big fundraising haul shows an improvement over the $300,000 Colbert Busch raised in the lead up to her primary election in February. She has been aided by her famous brother, comedian Stephen Colbert, who has appeared at multiple fundraising events for her campaign.
Nearly 40 percent of Colbert Busch's fundraising came from small donors, while some $96,000 came from PACs and candidate committees. Most of the PAC contributions were from leadership PACs controlled by Democratic members of Congress.
Recent polls show Colbert Busch opening a significant lead over the scandal-plagued Sanford. A Public Policy Polling survey released on Tuesday found the Democrat up by 9 points in what should be a Republican stronghold.
Colbert Busch's success largely stems from the drop in Sanford's favorable numbers in the district, in part due to recent revelations by Sanford's ex-wife that he may have violated terms of their divorce by visiting her new home. Sanford previously admitted to an affair with an Argentinian reporter.
The National Republican Congressional Committee publicly announced it would not support Sanford's bid after his ex-wife's accusations of trespassing were made public.
In addition to her brother, Colbert Busch has been aided in her campaign by both the Democratic Congressional Campaign Committee (DCCC) and House Majority PAC, a super PAC backing Democratic candidates for the House. She had $254,459 cash on hand as of April 17.
ALSO ON HUFFPOST:
The Women Behind Obama's Presidency
SUBSCRIBE TO & FOLLOW POLITICS
How will Trump's administration impact you? Learn more