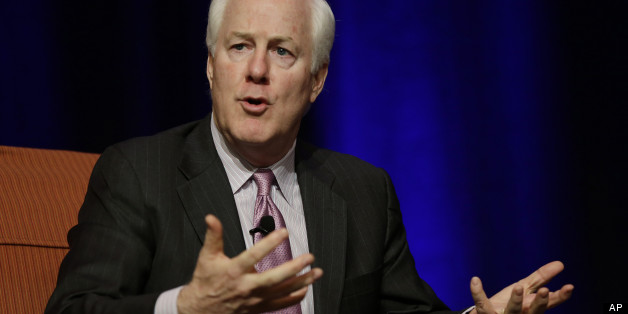 After the group DREAM Action Coalition -- a group of undocumented young people, or Dreamers -- tweeted the post at Cornyn, he had a succinct response: "complete bs."
A spokesman for Cornyn confirmed that the senator wrote the tweet.
The op-ed was posted to the Houston Chronicle's website Thursday and penned by Cesar Vargas, director of the DREAM Action Coalition. Vargas came to the United States from Mexico at the age of 5 and applied last year for the Deferred Action for Childhood Arrivals program to remain in the United States.
He wrote that Cornyn, a member of the Senate Judiciary Committee that is now considering immigration reform legislation by the bipartisan "gang of eight," has been hypocritical on the issue. He specifically cites Cornyn's vote against the Dream Act -- which failed -- in 2010. Vargas wrote that "many, if not all of Cornyn's demands for border security" are addressed in the gang of eight bill and that if the senator opposed it, it would be purely for political reasons:
Unlike previous attempts, Cornyn's effort to doom immigration reform will not have the same potency or success rate. What is on display, however, is the senator's diminishing standing, particularly as a statesman capable of working across the aisle on tough legislative issues. Cornyn can still take advantage of this last chance to prove to Texans a legacy of firmness in leadership to take on immigration reform that includes not only border security but a practical system that unites all families.
Cornyn spoke about the gang of eight bill during a Judiciary committee hearing on Monday and said it includes "a number of positive improvements" to the immigration system.
"But there are a number of areas that this bill needs substantial improvement in," he said. "For example, while well-intentioned, I regret that the border security element falls well short of the sponsors' aspiration to protect the borders and maintain U.S. sovereignty. In fact, without major changes, the bill could do more harm than good. ... Border security matters in Texas and along the Southwestern border, and the bill's -- does not adequately provide for it. And I hope my colleagues will work with me to help get it right. I think we can do it."
Cornyn spokesman Drew Brandewie responded to Vargas' op-ed in a statement to HuffPost Thursday afternoon.
Cesar Vargas of the DREAM Action Coalition accused Sen. Cornyn of being an "obstructionist" on immigration reform and suggested that he is trying to derail the bipartisan Senate bill drafted by the so-called Gang of Eight. The bill is a little over a week old, and Sen. Cornyn has repeatedly praised his colleagues' efforts. Last week, Sen. Cornyn laid out areas where he agreed and disagreed with the Gang of 8. He looks forward to the mark up and the continued debate on this important, complex issue.
Vargas has also been critical of the Obama administration's immigration policies. In an op-ed for HuffPost, he said President Barack Obama "capitulate[d] to the extreme right by proving he was tough on immigration at the expense of breaking up families" by deporting record numbers of people.
View the tweets: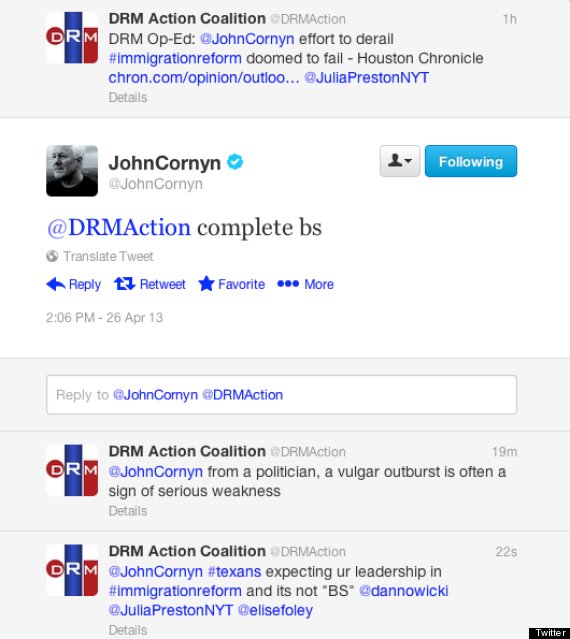 This post has been updated to include response from Sen. Cornyn's office.
Also on HuffPost:
Controversial Immigration Laws
SUBSCRIBE TO & FOLLOW POLITICS
Get top stories and blog posts emailed to me each day. Newsletters may offer personalized content or advertisements. Learn more