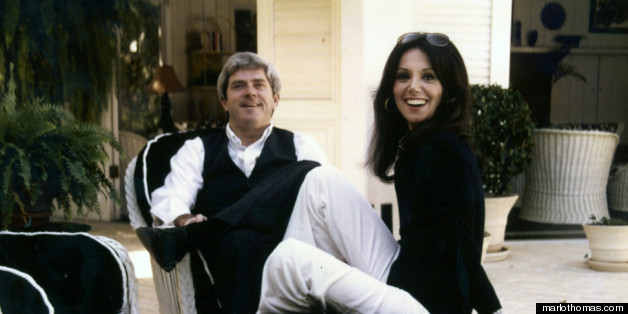 It all seems like it was just yesterday. I was young, independent, and standing firm by my vow never to marry -- a promise I had kept for years, even as my girlfriends got married one by one by one.
But then I went on this talk show and something happened. It was weird. It was alchemy. A couple drops of white hair and a dash of blue eyes. A tablespoon of Catholic schoolgirl, a splash of a smile. And we were toast.
Phil flirted with me for the full hour -- and I flirted back, saying brilliant, feminist things like, "Oh, Phil!" and "Oh, you're so funny, Phil!" It was really embarrassing. Then at the end of the Donahue show, Phil took my hand and said -- on camera -- "Well, you are a just a fabulous guest!" And I, never one to demur from expressing myself fully, said, "And you are wonderful and kind and you like women and whoever is the woman is your life is very lucky."
The women in the audience knew exactly what was happening. They were watching two people starting to fall in love.
Next month Phil and I will be married 33 years. (Thank you, thank you all. We deserve your applause!) And so just this week, I did what I do every year at this time -- I brought out the old photo albums and started looking through them.
As I paged through the pictures, my heart picked up a few beats (yes, that happens every year, too!), because I saw our story unfolding before me: From those first crazy days when we had to book flights just to go on a date (he was in living in Chicago, I was in L.A.); to the four years after our wedding when we commuted to wherever work took us -- taking turns on alternating weekends -- from our comfy home in Winnetka, Illinois; to our eventual move to our beloved New York City, where life, amazing as it seems, got even better.
But why share these memories alone? Here are some of my favorite photos from Phil's and my scrapbook. I hope you enjoy them -- they get me every time! --MT
SUBSCRIBE AND FOLLOW
Get top stories and blog posts emailed to me each day. Newsletters may offer personalized content or advertisements.
Learn more