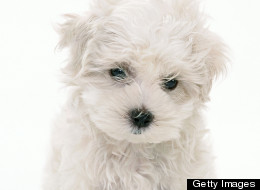 WASHINGTON -- It would have been the "purr"-fect crime had a security camera not caught an alleged puppy thief, with a distinctive cat tattoo, in action.
According to The Washington Post, on April 12 a woman entered the Just Puppies store on Veirs Mill Road in Rockville, Md., and spent time admiring a $1,200 Maltese puppy.
The Post reports:
She looked at the only Maltese, had a discussion with a saleswoman about the risks of hypoglycemia and asked if she could play with the puppy. "She seemed delightful when she was here," [Just Puppies manager Jeanea] Tobiasz said.

Surveillance video shows her standing in a little stall area, looking around, appearing to bag the dog and — at 5:10 p.m. — walking out of the stall. The woman left the store a short time later, police said.
Just Puppies acquired the Maltese pup on April 8, says the Post, and an April 10 photo on the store's Facebook page shows the tiny white Maltese just days before the alleged crime.
The American Kennel Club classifies the Maltese under its 'Toy Group' classification; the breed generally weighs less than seven pounds. The puppy reportedly taken from Just Puppies weighed just one pound.
Just Puppies says it gets its puppies from "USDA and state licensed breeders, mostly in Missouri and Iowa. USDA breeders are regulated by the federal department of agriculture and are regularly inspected by the USDA as well as the state."
PETA discourages animal lovers from buying puppies from pet shops:
Most animals sold in pet stores come from mass-breeding facilities called puppy mills, where they are denied socialization, exercise, and veterinary care. The puppies are typically taken from their mothers at an early age, packed into crates, and trucked or flown hundreds of miles to brokers and then to pet stores, often without adequate food, water, or ventilation. Some puppies don't survive the grueling journey.
Police describe the accused puppy snatcher as a white woman in her late 20s, standing 5 feet 7 inches tall and weighing 115 pounds. She has a European accent and a Cheshire Cat tattoo on her neck.
As Rockville police hunt for The Girl With The Cat Tattoo, D.C. area animal shelters have plenty of pets available for adoption. Take a look!
This 1-year-old smarty pants is an excellent candidate for advanced training like agility or nose work. AWLA offers discounted classes for adopters through KissAble Canine right here at our shelter! Starla is learning how to walk on a gentle-leader, how to play "find it" and has sit and the clicker down pat! She will do best in a home with experienced adopters, willing to set up Starla up for success through training and teach her how to be the dog you want her to be. Does Starla sound like the perfect fit for you?

My original owner said the following about me: I'm 2 years old and was adopted from AWLA when I was a kitten. I was kept indoors only. I play gently, like a variety of toys and liked to play with the family dog. I'm very tolerant when it comes to handling. I enjoy quiet time, toys, cat nip, looking out the window and laying on my back like a dog. I'm friendly with people, but can be fearful of strangers. I can also be a little vocal and I'm best described as: shy, friendly, active, independent and sometimes like a dog.

Star is a 1-year-old New Zealand Purebred Rabbit who would love to be the star of your home. Like so many others at the shelter, she was turned out to fend for herself in a dangerous world.

I'm 1 year old and originally came into the shelter as a stray and was adopted out but then returned shortly thereafter when my adopter developed allergies. They only had me for about a month. They described me as friendly, playful, active, goofy, lively and curious. They noted that I had a habit of eating their spider plants. I am friendly with people but can be a little bit cautious with new people at first. I like my quiet time, but also like to climb and play with toys. I play gently, but may give love bites. I also like a variety of toys and can learn tricks for treats. I lived as an only pet - no other cats or dogs.

Barbell is a 4-month-old Plott hound mix from West Virginia. This darling boy can't understand why he's still at the Washington Animal Rescue League when all of his littermates have been adopted. Happy, energetic, and intelligent, this precious pup will make a wonderful, lifelong companion for some lucky person.

Edison is a 2.5-year-old Chihuahua mix, who first came to the Washington Animal Rescue League as a puppy after being rescued from a hoarding situation in West Virginia. Given his size, appearance and friendly disposition, he was quickly adopted but, sadly, found himself back at the shelter when his person lost her home. Edison is an exuberant, energetic little guy who loves other dogs and toys…especially squeaky ones. As you can tell from his expression, Edison is a glass-half-full kind of dog who enjoys life to the utmost and will inspire his adopters to do the same.

Areal is a robust 5-year-old girl who came to AWLA from a rural rescue group. Areal is a sweet, quiet, mellow girl who has just recently started to warm up to other cats, as long as they respect her need for personal space. She loves to be petted and get chin scratches. Areal will settle into a new home easily, as long as she has a nice comfy place to cuddle on! Areal would be good for a first time cat owner. Come visit this beautiful girl!

Artimus is a 1-year-old New Zealand Purebred Rabbit who loves to play and explore then stop for some gentle petting. His chubby cheeks are irresistible when he begs for a piece of carrot.

Looking for an adorable young cat? You're in luck, Starfish is up for adoption! He's still a kitten so of course he has a lot of energy and loves to play. He loves chasing lasers, playing with balls and beads. He's an indoor cat who loves all people including children of all ages. He's also comfortable with other cats. Of course he always loves a good petting or belly rub, but he's also a total lap cat. Nothing makes him happier than to curl up with you and get his purr on. He doesn't mind being held or carried as well. Sound too good to be true? Adopt Starfish and he'll prove what a great little kitty he is! Ask for him by ID #A372836.

Heeeeeeeey Arnold! This three-year-old American Staffordshire Terrier mix boy is just like his namesake -- an outgoing, lovable character who enjoys learning new things. Hey Arnold! has mastered "sit" and would do best with an active family who wants to help him keep learning. Meet Hey Arnold! at the Washington Humane Society New York Avenue Adoption Center (1201 New York Avenue, NE/ 202-727-5494).

Coffee Bean is a beautiful 2.5-year old tortie with a fun and entertaining personality. She's a happy girl who enjoys the company of people; her favorite spot is wherever her special person is, whether it's at the computer answering email, or the sofa watching TV, or sleeping at the foot of the bed. Coffee Bean is currently living in a foster home, where she serves as adjunct hostess, welcoming everyone who comes to visit. Like most girls, she enjoys being pampered…especially with a good head and neck massage. So if you are looking for a lovely cat to be your loyal companion, please email adopt@warl.org to arrange a meeting with Coffee Bean.

Reese's Pieces, a 7-year-old American Staffordshire Terrier and hound mix, loves hanging with both her human buddies and her doggie pals. She has made a new BFF at the Washington Humane Society named Gary. They get along so well that they live together, so the fun never ends. Because she rocks, her adoption fee has been waived. If you're looking for a sweet, fun dog come meet Reese's Pieces today at the Washington Humane Society New York Avenue Adoption Center (1201 New York Avenue, NE/ 202-727-5494).

Alana is stunning 6-year-old British shorthair mix. She currently lives in a foster home, where she entertains her human companions by prancing and sashaying around the house. Alana adores having her head and ears rubbed and will purr with happiness when being brushed. Although she enjoys playing, her favorite pastime is cuddling with her people. Alana is looking for a quiet home where she can be the only feline…although she wouldn't mind sharing attention with a mellow dog. Please contact adopt@warl.org to arrange a meeting with this special girl.

If ever there was a miraculous transformation, Esperanza is it. This 1.5-year-old hound mix was discovered on the side of the highway, competing with buzzards for road kill. When she arrived at the Washington Animal Rescue League, Esperanza was literally starving to death. And it turns out that lack of food wasn't the only reason for her emaciated condition. When she failed to thrive, despite regular feeding, WARL veterinary staff performed surgery, which revealed a corn cob blocking her intestines. That surgery marked a turning point for Esperanza. With the corn cob removed, she slowly began gaining weight. And, today, after months in the care of WARL staff, she's a happy, healthy, energetic girl who, as you can see from the video clip, loves to play fetch and is ready for a home of her own…one where she can be pampered like a princess without competing with children or other dogs for food and attention. After all she's been through, can you blame her?

Clover is a precious 2.5-year-old puggle. Everyone at the Washington Animal Rescue League adores this calm, gentle, sweet girl, and she returns the feeling. Clover is currently living in a foster home and has already learned several commands. Preferring people to dogs, she would Iike to be your one-and-only canine companion. And once she's in your life, you'll wonder what you ever did without her. If you'd like to meet Clover, please contact adopt@warl.org.

This 3-year-old male Coonhound has a wonderful, calm personality and is very sweet and cuddly. Although he barks in the kennels sometimes, in the staff offices he is quiet and easygoing, resting on a dog bed and snoozing away. He would be a great fit for a family looking for someone to go on walks and hikes, but also to snuggle at home. Also, he did well in his cat test and may do well with another dog.

Golden Boy is a handsome 3-year-old brown-and-white tabby. He's what some people refer to as a "puppy cat" because he's such a happy, affectionate, and playful feline. He adores attention of any kind, whether it's being petted, scratched, rubbed, or played with, and he returns the favor by purring like a race car. If you are looking for a big, loveable guy to share your life with and make you smile, Golden Boy is your guy. See for yourself at the Washington Animal Rescue League.

Fudge Foot is a lovely 3-year-old Lab mix. When not snuggling with an adult human companion, she enjoys playing with squeaky toys and tug toys. Fudge Foot is currently living in a foster home, where she is learning to walk nicely on a leash and perfecting the fine art of housetraining. Please contact adopt@warl.org to arrange a meeting with this happy girl.

Attention all you "Golden Girls" fans! Meet Blanche Devereaux and Big Daddy, a bonded pair of 9-year-old Maltese mixes at the Washington Animal Rescue League. Both are affectionate and crave attention. In fact, they get very excited and vocal when someone approaches, eager for some good old-fashion loving. With the exception of a couple of short walks a day, these "golden oldies" want nothing more than to hang out on the couch or bed with one or more adult human companions while they read or watch TV. Could that be you?

Sylvia, a 6-year-old beagle, and her brother Sam are looking for a new loving home. They have lived together their entire lives but their old family moved somewhere that doesn't allow dogs. They would love to stay together with a new family. Sylvia is a very affectionate dog and very willing to work and learn! She is house trained and gets along well with other dogs and children. All she needs is a family who will love her (and Sam) and give her a forever home! Ask for Sylvia by Tag #118, ID #A372253.

Sam, a 6-year-old beagle, and his sister Sylvia are looking for a new family to give them their forever home. Their old family moved to a small apartment that wouldn't doesn't allow dogs so they would love to stay together. Sam is a very easygoing guy and gets along well with other dogs and kids! He is house trained and likes to learn new things. Will you be the forever family that Sylvia and Sam have been waiting for? Ask for Sam by Tag #185, ID #A372252.

Porpoise is a laid back 5-year-old cutie looking for her forever home! She was the only cat in her previous home so we don't know how she''d feel around other cats but she's comfortable around other dogs. Porpoise's previous owners were very sad to have to leave her -- they want you to know that she takes some time to warm up to new people but once she does, she likes to sit on your lap and be pet. They also want adopters to know that she absolutely loves tuna! She would be perfect for an adult household looking for a sweet, shy cat. Please give Porpoise her forever home! Ask for her by ID #A373035.

This little rabbit is used to being handled and loves kids of all ages. He is also used to being around other rabbits (especially his sister Amelia who is also up for adoption). Bosley would be perfect for a family looking for a low maintenance cutie pie to have around the house. So adopt him today! Ask for Bosley by ID #A372361.

Daisy, a one-year-old pit bull terrier type dog, is a playful girl who loves a good romp with her toys. She's great sharer. Daisy is a bit on the shy side, but with time, socialization and positive encouragement, she'll make a wonderful addition to your home. Meet Daisy at the Washington Humane Society New York Avenue Adoption Center (1201 New York Avenue, NE/ 202-727-5494).

Bella, a 1-year-old boxer and beagle mix, loves to play. She has a lot of spunk and even more beauty to back it up. She needs someone who can keep up with her and would do well in a home with another dog of the right fit. Meet Bella at the Washington Humane Society Georgia Avenue Adoption Center today (7319 Georgia Avenue, NE/ 202-723-5730).

Manny, a 2-year-old bull dog mix, has a big and fun personality, as you can see from his silly smile. Manny loves going on PACK (People and Animal Cardio Klub) runs with WHS volunteers, and afterwards he's ready for a nice snuggle. Meet Manny at the Washington Humane Society Georgia Avenue Adoption Center today (7319 Georgia Avenue, NE/ 202-723-5730).