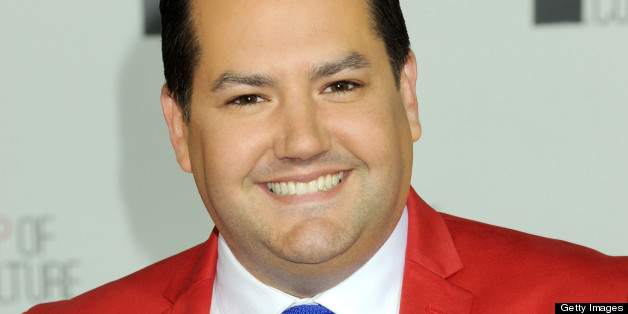 These days, our knowledge of celebrities too often originates with paparazzi images and snarky quotes by anonymous "insiders." After a while, it's easy to forget that stars are real people. That's why HuffPost Celebrity decided to launch its all-new #nofilter quick-fire question-and-answer series. Because how well do you know someone until they've shared their guiltiest pleasures?
If you don't know Ross Mathews ... well, where have you been?! The E! personality, who first rose to fame as "Ross the Intern" on "The Tonight Show With Jay Leno," has taken over the red carpet -- interviewing celebrities at A-list events, like the Oscars, the Golden Globes and the Emmys for "E! Live From the Red Carpet." Not to mention, he's a regular panelist on Chelsea Handler's E! talk show, "Chelsea Lately."
The 33-year-old chatted with HuffPost Celebrity while on the black-and-white carpet at the E! Upfront on April 22 in NYC -- and you won't believe what's on his DVR. (Or maybe you will?)
What's your guilty pleasure?
My guilty pleasure is elastic-waisted pants. And reruns of shows I've already seen 400 times on TV.
What's on your DVR?
Oh! My DVR, like, sees inside my soul and inside my soul is a 65-year-old retired woman. [laughs] So there's Food Network, HGTV and "Golden Girls" reruns. And "Roseanne."
What's on your nightstand?
On my nightstand I have an iPod phone thingy, I have a coaster because I hate water marks and a remote control and a lamp. Oh no, that's not true! I have a vanity with a bunch of little watches.
Who's the best-dressed celebrity in your eyes?
My best dressed star … you know, I think Gwyneth [Paltrow] never disappoints. Gwyneth always shows up and is always setting a new trend that you will see on a thousand people over the next six months.
Who or what are you jealous of lately?
To be honest, I'm jealous of myself. This is the best time I've ever had in my entire life and with my book, the show -- my dreams are coming true, I can't believe it. And so I'm not really jealous of anyone else … wait, Jessica Biel! I am jealous of Jessica Biel because that Justin Timberlake is hot as anything.
What super power would you want?
Weight loss, like magical weight loss. Because before, I stepped out of my hotel room today and I was like, "Mother f**ker, I wish I could do something about this!"
ALSO ON HUFFPOST:
PHOTO GALLERIES
They said WHAT? #nofilter