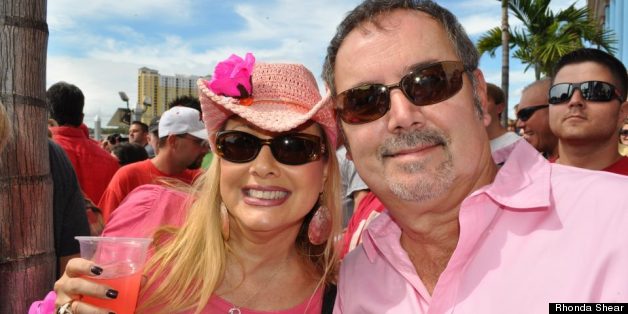 One of the reasons I started my website is that I wanted a place for women to come together and dream. We women need to know that we don't have to hang on to an old dream that has stopped nurturing us -- that there is always time to start a new dream. This week's story is about a woman who had a successful Hollywood career for years. But when she fell in love, she and her husband looked for a way to incorporate her star-studded background into a whole new business. Today, her intimate apparel line is raking in millions from around the world -- and she's just getting started. -– Marlo, MarloThomas.com
By Lori Weiss
As Rhonda Shear looks out onto the water from her 10,000-square-foot "Barbie doll" mansion in St. Petersburg, Florida, even she's amazed at the path that brought her here. A Louisiana beauty queen, she made her way to Hollywood, hoping to be discovered. And it wasn't long before her laughter and curvy good looks began getting attention.
"I went to an open casting call for a Bob Hope special," Rhonda recalled. "It was right around the time that Bo Derek did the movie '10' and they wanted to cast six '11s' for a bit they were doing. There were 700 women in line and I stood there all day, until finally, there I was, in a bikini, in front of Bob and his daughter. I went to do a dancer's kick for them and my shoe came flying off. It landed inches from Bob's head! It got a laugh, and I got the part!"
And while she swears she didn't mean to send her stiletto flying towards one of the most famous men in show business, Rhonda's sense of humor helped her land lots of roles -- from the Fonz's girlfriend on "Happy Days" to the sexy neighbor on "Married With Children." Soon she was taking center stage as a standup comic and as the host of the USA Network's movie marathon, "Up All Night."
"I was a good girl stuffed into a bad girl's body," she laughed, "so I always got the sexy parts. And with "Up All Night," I got to wear these wild outfits. I'd change costumes six or seven times during a show, from hot little dresses to lingerie, so I spent a lot of time with costume designers coming up with crazy ideas."
The slinky outfits became Rhonda's trademark and the secret weapon that would keep her male audience up all night watching -- so much so, that even Playboy came calling twice. But it was what was keeping her up that would eventually launch a $160-million-dollar empire and land her in her dream home.
But first, she would have to go back to her roots -- back to Louisiana -- and into the arms of her high school sweetheart.
"I was in my 40s," Rhonda said, "and my mother told me that I was officially an old maid. I'd spent a lot of time dating moguls and rock stars, but really I wasn't looking for marriage. I was dating for fine dining. And out of the blue I heard from Van, the boy I dated all through junior high and high school. I was seeing someone at the time and I remember him saying, 'I can just see you shopping at the Piggly Wiggly in Louisiana.'"
"I had no desire to be with the man who deflowered me! But he was persistent. And I figured when he gave me every phone number he had, he couldn't be married. So, when I was in Louisiana for the holidays, we got together. Fifteen days later, we eloped."
It was the first time in all the years since she'd left Louisiana that Rhonda felt like she could take off her costume and be herself. Yet the couple lived very different lives. And they needed to find a way to merge them.
"Van had a business that created software for oil drilling companies and he had just closed it down. He had child support to pay. And I'd blown through all my money. We had to figure out a way that we could get back on our feet, and he really didn't want to be in Los Angeles."
"So I thought, 'What if I had him build me a website and I used my name and my background to sell the lingerie I'd become known for?' I started working with shapewear companies to develop a line -- and just about that same time, I heard that HSN was looking for a celebrity to help them sell intimate apparel."
And that's when their new lives would begin to take shape. HSN was interested, and Rhonda was ready.
Article continues below slideshow.
It Ain't Over: Rhonda Shear
"Really, I was just happy to be back on TV at that point. But then I looked at the screen and saw that we'd sold 6,400 pieces in minutes!"
As Rhonda continued to add new products to her line, the couple's income grew to six figures. But at the same time, the woman who'd become known as one of Hollywood's hottest bombshells began to notice her own figure exploding.
"Most people acquire money as they get older," Rhonda said with a teasing grin, "I acquired cup sizes. I found my weight shifting -- to my back, up on top, under my arms. So I started creating pieces out of my own necessity. I wanted something comfortable. Don't get me wrong, when I go out, I still bring out the pushup bra to give the girls some lift. But I wanted something that wouldn't pinch and poke me during the day."
And that's when the "Ahh Bra" was born -- a bra that's made up of one piece, rather than the hundreds it takes to hold together most others. It has no hooks or eyes or underwire. It's built for comfort. And it quickly became the foundation of the couple's business. It was selling so well on HSN that Rhonda and Van decided to take a chance on an infomercial. Today, the "Ahh Bra" is the number one selling bra in the world and has brought in more than $90 million.
But Rhonda isn't resting on her laurels. The company is on the rise. Today, Rhonda Shear Intimates sells sleepwear, shapewear, bras, panties, apparel and lingerie. Later this year, she'll launch a line of fragrances and cosmetics and once again, Playboy is calling -- only this time, the only assets they're asking Rhonda to show off are her design skills. She's putting together a line of intimate apparel for Hugh Hefner's wife, Crystal.
"I spent so many years in Los Angeles," Rhonda explained, "just trying to nurture my career, I don't feel like I really even got going until after I turned 40."
"You've just got to believe that it's never too late to learn something new. I love that I've had two amazing careers. And I'm thinking that maybe this isn't the last one."
Add Marlo On Facebook:
Follow Marlo on Twitter:

Weekly Newsletter
Sign up to receive my email newsletter each week - It will keep you up-to-date on upcoming articles, Mondays with Marlo guests, videos, and more!