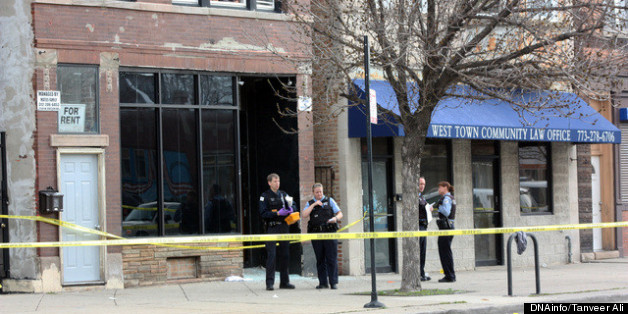 Updated story
Chicago police have identified the man killed during a fight outside a Humboldt Park bar Sunday morning.

Officials say 36-year-old Andre Velazquez was killed in a shooting that happened at 6:04 a.m. near Division Street and Campbell Avenue, the Tribune reports.
Authorities believe the fight started in an after-hours bar some residents call a "speakeasy" and then "escalated and then spilled out onto Division Street." Velazquez was shot in the head and pronounced dead at an area hospital a short while after, while a second man was wounded after being shot in the arm.
A few hours earlier near Central Avenue and Chicago Avenue in Humboldt Park, another man was shot by city police after he allegedly pulled a sawed-off shotgun on an officer inspecting his car for a weapon.
A police spokesman told CBS Chicago the man was "very reluctant… kind of hunched-over at the steering wheel," when the officer approached him in his car.
"The officer standing on the passenger side shines a light into the car. He now sees the guy straightening up. He's got a sawed-off shotgun in his hand, pointed at the officer. At that point, the officer defends himself and fires two shots."
The man drove off and later crashed. CBS reports he is being treated at a local hospital for non-life-threatening injuries.
Elsewhere in the city, ten more people were injured in gun-related incidents since Friday, including a 15-year-old boy. The Sun-Times reports the boy was shot about 2 p.m. Friday in the 6400 block of South Claremont Avenue in the Chicago Lawn neighborhood. The boy was treated at a local hospital for leg injuries and listed in good condition, according to police.
According to DNAinfo Chicago, the remaining shootings happened on the city's Northwest, South and West Sides.
Though the city added to its homicide numbers this weekend, killings in Chicago appear to be trending downward overall. With two days left in the month, 2013 may be the first time in eight years the city does not hit 100 year-to-date homicides in April.
ALSO ON HUFFPOST:
PHOTO GALLERIES
Crime In Chicago