Is the federal government honest about what it knows about UFOs? Are officials suppressing the truth about extraterrestrial visitations?
The federal hearings UFO researchers have been demanding have not yet materialized. But some of the testimony that would be posed at those proceedings will be posed this week to former members of Congress.
At the National Press Club in Washington, D.C., a Citizen Hearing On Disclosure (CHD) will unfold between April 29 to May 3. For 30 hours, 40 international researchers and military/agency witnesses will testify in front of these committee members:
Click Here For Live Updates (Beginning At 9 a.m. Monday)
Watch some of the CHD witnesses here.
"I don't think ET is the best word for it. I think it's more unidentifiable foreign substances or vehicles in the air -- it's unidentified," Gravel told HuffPost. "I don't know if it's little green men or purple men or if it's any men. All I know is that, worldwide, there's thousands and thousands of sightings. Some of them may be hallucinatory, but under close examination, there are real sightings. There's something that we don't know of."
Gravel, a former Special Agent in the Counter Intelligence Corps, who once insisted from the floor of the Senate that his constituents had a right to know the truth behind the Vietnam War, feels the same way about the public knowing the facts about UFOs.
"Having been opposed and fighting, all of my public career, the military industrial complex and the fact that we have excessive secrecy, just does a disservice to the people when you have the military that feels this stuff has got to be secret and they won't open their files."
One of Gravel's CHD committee colleagues, Kilpatrick, told HuffPost she doesn't like the fact that "this country makes jokes about (UFOs), but in other countries, it's a spiritual kind of thing, so I'm really looking forward to seeing exactly what it is.
"As a member of the Appropriations Committee and Armed Service Committee and serving on the Air Force Academy Board, I always had an interest [in UFOs]. I think if there's something there that we need to discuss, then we ought to be part of that discussion.
"I want to hear the factual information and I'm taking it very seriously. I don't want to be ambivalent. I don't want it to be a joke. It's too serious. If we bury our heads in the sand and say there's nothing there, we lose, our country loses. I want to hear the expert testimony and be convinced that something's there. I'm willing to take it where it leads, and if it'll help our country and the people of America be better world citizens, and if my appropriations experience can help, I'm willing to do that."
Both Gravel and Kilpatrick say they think it's time for a real congressional investigation into UFOs and the possibility that Earth is being visited by someone from very far away. They'd also like to see this issue brought up again at the United Nations.
"I can say that we don't have to wait for the hearings to do that," said Gravel. "Whether or not Congress wants to do it, I think that it's global in nature and I would like to divorce it from the Congress of the U.S. I think that there should be a part of the U.N. devoted to this. I would sign a document like that right now."
The international spokesperson for the weeklong CHD is Apollo 14 astronaut Edgar Mitchell, who believes that Earth has been and may still be visited by extraterrestrials.
"I can't say where they're from, but the evidence of their presence here is pretty overwhelming -- IF you care to look for it. My only guess as to why there's this embargo is because there are money people involved, doing their (hardest) to keep it quiet because of the profit potential that goes with having the capability and the technology that could go outside of our solar system," Mitchell told HuffPost.
Mitchell, the sixth man to walk on the moon, is hoping this week's CHD will help close the door on the alleged truth embargo that surrounds the UFO-ET issue.
"[We need to] spread a little bit more truth about the type of universe we live in and the fact that we're not alone in the universe. We've got many, many mysteries on our hands, and mysteries to solve. We really don't know the scope of our existence and our picture of the universe is still pretty primitive."
CHD organizer and political activist Stephen Bassett wants this event to primarily reach the mainstream media and Congress.
"The message to Congress is it's time to investigate this issue again and it's time for the media to realize this is the greatest news story of all time. I believe we have a definite, measurable chance of achieving, sometime this year, the president of the United States going before the American people and finally acknowledging that the phenomena we have been experiencing for at least the last 65 years is, in fact, being generated by an extraterrestrial non-human intelligence engaging the planet Earth."
Also on HuffPost:
LIVE BLOG:
Paul Hellyer is widely known and credited for his work to unify the Canadian Armed Forces. In 2005, he made headlines by announcing that "UFOs are as real as the airplanes flying overhead." That statement made him the first cabinet-ranked individual in the G8 group of nations to say that UFOs were unequivocably real.
"Since then, I've learned a lot from many sources, including a number of the fantastic witnesses that we have heard these last [five] days."
Among the things Hellyer says he has learned and believes is a particular document that concluded at least four species had been visiting Earth for thousands of years: "This is my own view at this stage, as well. ... They are different species and, consequently, may have different agendas. I don't think we can say that they all have the same agenda any more than we can say that the United States, China and Russia have the same agenda. Our real interests may be similar, but as of now, our perceived interests are still quite far apart."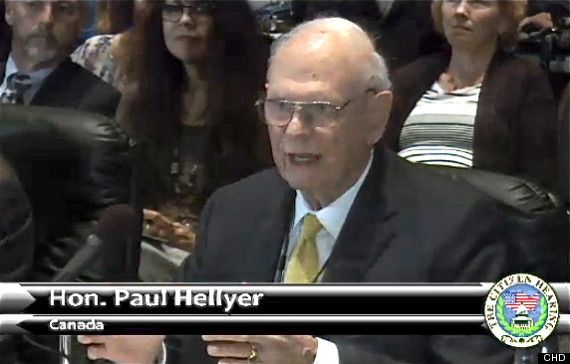 "My interest is in about 95 to 98 percent of full disclosure -- I know of one or two things that I'm not sure should be in the public domain, at least yet. They will be someday, I'm sure. But just as children survive the idea of the tooth fairy and Santa Claus when they become adult, I think the taxpaying citizens are quite capable of accepting the new and broader reality that we live in a cosmos teeming with life of various sorts.
"The fact that some other civilizations are more advanced than we are may be humbling. But that could be a necessary step in our survival."
Several of the former members of Congress who presided over the 5-day hearing suggested they would be interested in reuniting to try and take the UFO-ET disclosure issue to the United Nations.
Time will tell...