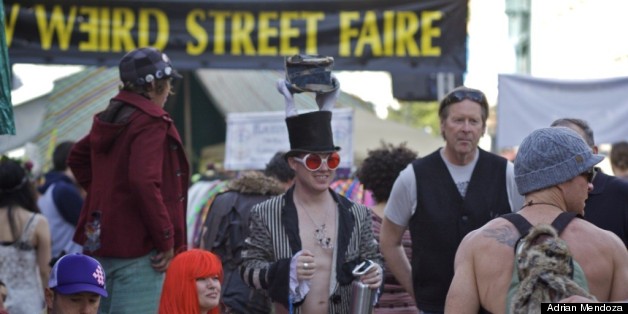 Over the weekend, thousands of Bay Area residents pulled their neon pink furry boots of the closet and headed down to San Francisco's South of Market neighborhood for the 13th annual How Weird Street Faire.
Billing itself as the longest-running annual electronic music street fair in the country, How Weird is known as much for its sonic heritage as it is for the outlandish, Burning Man-esque costumes of its participants. This year's theme: "Weirdi Gras"
Happily for everyone that didn't get to experience the event first-hand, renowned San Francisco-based photographer Adrian Mendoza happened to wander though this year's festival.
"Luckily, as I always have my camera with me, I took a couple hundred photos of the typical SF insanity," wrote Mendoza an email. "There was plenty of bright, colorful, outrageous outfits, pot smoking everywhere (4-20, 2.0) and one very nice NSFW topless dancer."
While public nudity is now technically outlawed in the city, the law does makes specific exceptions for events How Weird, where letting it all hang out is actually encouraged.
"This epitomizes what SF is all about," added Mendoza.
Check out the photos here:
How Weird Street Faire 2013 (NSFW)
SUBSCRIBE TO & FOLLOW THE MORNING EMAIL
Start your workday the right way with the news that matters most. Learn more