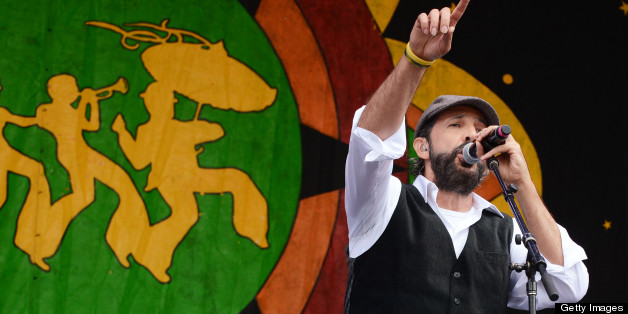 "A son de guerra tour deluxe version" is the new album recorded live of the Dominican singer-songwriter Juan Luis Guerra, and it will be released May 14.
The album was recorded at a concert in the Olympic Stadium in Santo Domingo. After visiting more than 20 countries with his tour, Guerra returned to his homeland the Dominican Republic with his band 4.40, to celebrate with more than 50,000 people the culmination of the tour in a magical and unforgettable night.
Starting this week, fans can pre-order the album in the iTunes store.
Juan Luis Guerra is one of the most acclaimed, respected and successful artists of the Latin music. His unique style of merengue, bachata and bolero have made him one of the most recognized artists in the world with sales of over 14 million records worldwide.
He has two Grammys and fourteen Latin Grammys, several Billboard Awards and six Cassandra recognitions (the most prestigious award of the Dominican Republic).
The album includes the following unforgettable songs of the artist such as, "En El Cielo No Hay Hospital", "Bachata en Fukuoka" and classics like,"La Bilirrubina", "Bachata Rosa", "Ojala Que Llueva Café".
The album also includes collaborations with Colombian rocker Juanes and with Romeo Santos.
'A Son de Guerra Tour' album list:
CD
1. Apaga y Vámonos
2. La Bilirrubina
3. La Travesía
4. La Llave de Mi Corazón
5. Mi Bendición
6. La Calle feat. Juanes
7. El Niágara en Bicicleta
8. Visa Para Un Sueño
9. Frio Frio feat. Romeo Santos
10. Las Avispas
11. Bachata en Fukuoka
12. La Guagua
13. En El Cielo No Hay Hospital
14. Ojala Que Llueva Café
DVD
1. Apaga y Vámonos
2. La Bilirrubina
3. La Travesía
4. La Llave de Mi Corazón
5. Bachata Rosa
6. La Calle feat. Juanes
7. Mi Bendición
8. El Niágara en Bicicleta
9. Solo Percusión
10. Visa Para Un Sueño
11. Las Avispas
12. Bachata en Fukuoka
13. La Guagua
14. Frio Frio feat. Romeo
15. En El Cielo No Hay Hospital
16. Medley de Bachatas
17. A Pedir Su Mano
Originally published on VOXXI as Juan Luis Guerra to release a new album recorded live
ALSO ON HUFFPOST:
Pitbull, Romeo Santos and Royce
SUBSCRIBE TO & FOLLOW THE MORNING EMAIL
Start your workday the right way with the news that matters most. Learn more