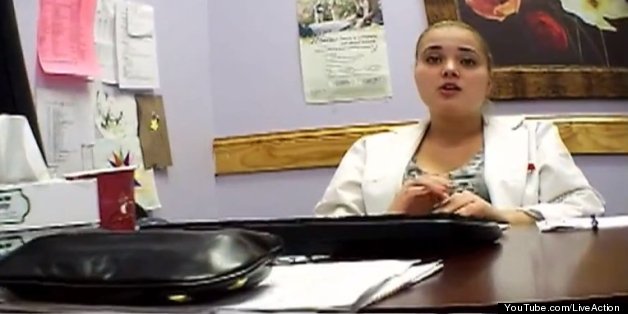 An anti-abortion group on Sunday released two covertly filmed videos that feature alarming remarks made by staff at two east-coast abortion clinics.
In one video, filmed at the Dr. Emily Women's Health Center in the Bronx, N.Y., a woman 23 weeks pregnant and pretending to seek a late-term abortion is told by a clinic staffer that the baby would be immersed in a chemical solution and sent to a lab -- even if it came out moving or breathing.
"The solution would make it stop [moving] ... That's the whole purpose of the solution," the unidentified worker says.
When asked what to do if the baby were born after the two-day abortion procedure had begun, the worker said, "If it comes out? Flush it."
In another video, shot at the Washington Surgi-Clinic in Washington, D.C., Cesare Santangelo, a local abortion doctor, said that if the baby were born alive during a late-term abortion procedure, "we would not help it." However, Santangelo says in the video that clinic staff would be legally obligated to help the infant survive.
Santangelo told The Washington Post that he was "tripped up" by the undercover agent's questioning while trying to "reassure" her. "What I said is, basically I wouldn't do anything extraordinary. We would call EMS. We would call 911. But I wouldn't do intubation or anything. ... You let nature take its course."
Santangelo also told the Post that he didn't watch the video because he considers the anti-abortion group "terrorists."
The director of the Bronx facility, Marjana Banzil, also told the Post that she hadn't watched the video covertly shot at her clinic.
"I have never had any fetus that was born alive," Banzil said. "If my staff member or somebody had mentioned something [like that], it was something they didn't understand."
A longer video of the sting at the Bronx clinic shows that the staffer who made the controversial remarks was assigned to record medical histories, not to perform abortions.
Both undercover videos were made by the non-profit anti-abortion group Live Action, which is calling for both clinics to be investigated.
While neither hypothetical abortion procedure in the videos would have been illegal under the current laws in New York and Washington, D.C., a federal law signed by George Bush in 2002 extends legal protections to fetuses that are born alive after attempted abortions. The word "alive" is defined as any infant that breathes, has a beating heart, a pulsing umbilical cord or movement of voluntary muscles.
Neither abortion clinic responded to a request for comment from The Huffington Post.
The videos are likely to cause a stir, especially with attention fixated on the trial of Dr. Kermit Gosnell, who was charged with five counts of murder, four for babies who were allegedly born alive after attempted abortions and one for the overdose death of a 41-year-old woman. Gosnell faces the death penalty if convicted.
ALSO ON HUFFPOST:
PHOTO GALLERIES
113th Congress Facts