Two years ago today, Prince William wed his Princess Charming, Kate Middleton, and gave us all a royal wedding kiss to remember.
Well, two royal wedding kisses.
Standing on the balcony at Buckingham Palace, the couple went in for one peck...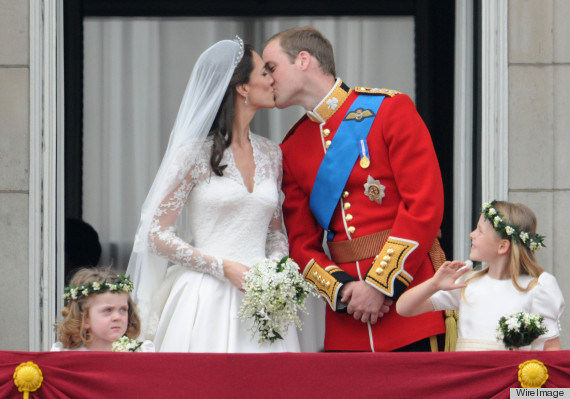 Then, when the crowd demanded a second kiss, they went in for a second lip-lock.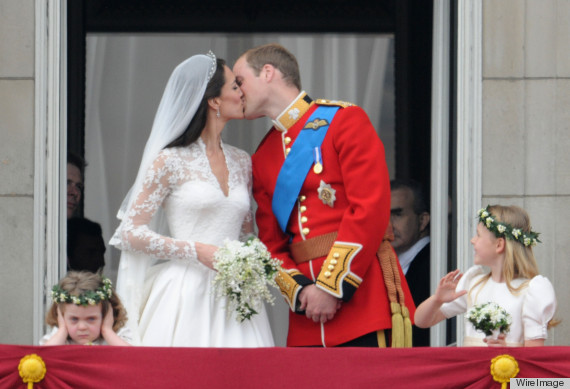 The young bridesmaid to the left wasn't too happy about it, but the 2 billion people watching sure were.
Happy Royal Wedding Anniversary! See more anniversary coverage here.
And now, some royal wedding pics you haven't seen a million times:
Royal Wedding Photos You Never Saw
Kate Middleton arrives with her father, Michael Middleton, at Westminster Abbey. (AFP photo)

Pippa Middleton arrives with the flowers girls and page boys at Westminster Abbey. (AFP photo)

Kate having her dress adjusted. (AFP photo)

Prince William and Kate at the altar during their wedding ceremony. (AFP photo)

Prince William and Kate at their wedding ceremony at Westminster Abbey. (AFP photo)

The couple exchanging rings at their ceremony. (AFP photo)

Prince William and Kate leaving Westminster Abbey after the wedding service. (AFP photo)

Prince Philip shakes hands with the Dean of Westminster John upon arrival at Westminster Abbey. (AFP photo)

Prince Harry and Prince William greet a guest while waiting for the arrival of Kate. (Getty photo)

Prince Charles kisses the hand of his mother, Queen Elizabeth, before his son's wedding ceremony. (AFP photo)

Flower girls and page boys arrive at the Royal Wedding. (AFP photo)

Florists deliver flowers and plants to Westminster Abbey in preparation for the Royal Wedding. (AFP photo)

Florists deliver flowers and plants to Westminster Abbey in preparation for the Royal Wedding (AFP photo)

Staff dress the balcony at Buckingham Palace ahead of the Royal Wedding. (Getty photo)

A worker makes the final preparations on the balcony of Buckingham Palace. (Getty photo)

Police Security during the Royal Wedding. (WireImage photo)

A horse, without a rider, gallops along the Processional Route during the Royal Wedding. (Getty photo)

Guests arrive at the wedding ceremony. (Getty photo)

Pippa Middleton and Eliza Lopez on their way to the ceremony. (AFP photo)

Ceremonial guards perform near Buckingham Palace. (Getty photo)

Flower girl Margarita Armstrong-Jones waives on her way to the ceremony. (Getty photo)

Prince William holds Kate's hand after their wedding service. (AFP photo)

Queen Elizabeth sheds a tear after the wedding of her grandson, Prince William. (AFP photo)

Prince Harry and James Middleton follow Prince William after the Royal Wedding ceremony. (AFP photo)

Prince William and Kate traveling along the Processional Route. (AFP photo)

Pippa Middleton leaving the wedding ceremony. (Getty photo)

Queen Elizabeth and Prince Philip leaving the Royal Wedding. (Flickr photo)

A band of the Queen's guard perform in the Mall on the day of the Royal Wedding. (Getty photo)

Prince Charles, Camilla and Carole Middleton arrive at Buckingham Palace after the wedding ceremony. (AFP photo)

Prince William and Kate arrive at Buckingham Palace. (AFP photo)

Prince William and Kate arrive at Buckingham Palace after their wedding ceremony. (Getty photo)

Prince William and Kate arrive at Buckingham Palace after their wedding. (Getty photo)

Kate arrivals at Buckingham Palace after her wedding to greet her guests. (AFP photo)

Details of Kate's engagement ring and flowers. (Getty photo)

Details of Kate's wedding and engagement rings. (Getty photo)

Kate bends down to talk to a flower girl from the balcony of Buckingham Palace. (WireImage photo)

Fans watch Prince William and Kate kissing on a giant screen in Trafalgar Square in central London. (Getty photo)

Royal Wedding fans dress for the occasion. (Getty photo)

Chefs putting the final touches on the Royal Wedding Cake. (Getty photo)

Cake designer Fiona Cairns standing in front of the Royal Wedding cake she designed. (AFP photo)

The Royal Wedding cake. (AFP photo)

Prince William and Kate leave in Prince Charles' vintage Aston Martin DB6 Volante. (Getty photo)

The couple leaving Buckingham Palace. (AFP photo)

The couple leaving Buckingham Palace. (AFP photo)

More fans dress-up for the celebration. (AFP photo)

Commemorative Royal Wedding serviettes and plates. (Getty photo)

Soliders in Lashkar Gah, Afghanistan celebrating the Royal Wedding. (Getty photo)

Children waving British flags during the Royal Wedding. (AFP photo)

Kate and Camilla leaving to travel to Buckingham Palace for the wedding reception. (AFP photo)

Prince William and Kate leave Clarence House for Buckingham Palace. (Getty photo)
Want more? Be sure to check out HuffPost Style on Twitter, Facebook, Tumblr, Pinterest and Instagram at @HuffPostStyle.
--
Do you have a style story idea or tip? Email us at stylesubmissions@huffingtonpost.com. (PR pitches sent to this address will be ignored.)