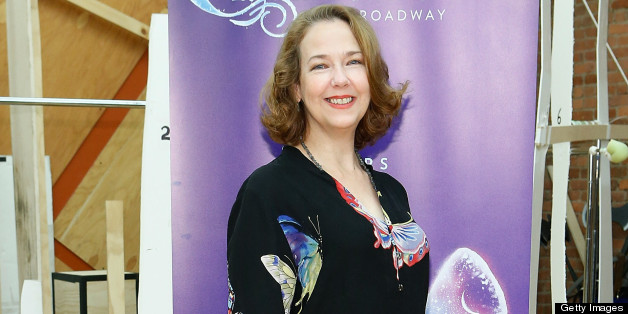 Harriet Harris has popped up on your TV screens since 1989. A serial guest star, she's perhaps best known to TV audiences for her recurring roles as Bebe Glazer on "Frasier" and Felicia Tilman on "Desperate Housewives." But to a whole different segment, she's a Tony-winning actress.
Harris, a 58-year-old native of Texas, is currently starring in "Cinderella" on Broadway as Madame, Cinderella's stepmother. She took home a Tony and a Drama Desk Award for "Thoroughly Modern Millie" in 2002. However, it's her recognizable voice and litany of film and TV credits -- everything from "Law & Order" to "Momento" -- that make her a recognizable face and the perfect subject for "Isn't That ... ?," a new HuffPost feature highlighting those character actors you recognize from a variety of projects, but don't know much else about.
"I love it. It's a delight to do," Harris said in a phone interview about "Cinderella." "I have enormous respect and admiration for everybody involved with it."
Harris said she's had the acting bug since around the age of 7, but there was something else that used to tickle her fancy.
"I thought being governor of Texas would be a great thing to do and it didn't occur to me at the time that there hadn't been a female governor and wasn't until Ann Richards came along. I thought that would really be something I would be very well-suited for," Harris said with a laugh.
Harris, who was a shy kid, said acting has opened her up. "I've gotten to experiment with being more open ... I don't think I'll ever be outgoing, but I am friendlier than I would've been and I'm slightly more approachable and I think that makes for a better person."
While studying drama at Juilliard alongside the likes of Frances Conroy and Kelsey Grammer, Harris said she thought her career would be doing classic stage plays and classic plays only. It wasn't until she was cast in "Jeffrey," a play by Paul Rudnick, that she saw a point in doing new work. "It speaks to people in a way that I thought only classic plays could," she said. "[T]hat started really more or less a career in television that I did not anticipate having."
Harris' first credited TV role was the series "Doctor Doctor" and she remembers being taught something very valuable on "Golden Years" shortly after her TV career started to take shape.
"A wonderful director named Allen Coulter, who went on to do lots of interesting stuff, saw I had been at the Guthrie [Theater] on my resume and decided that meant that I could really act," she said. "For that day, he taught me how to do a closeup. It was stuff that in conservatory training at Juilliard, they just never got into that because we were all destined to have stage careers."
After "Golden Years," Harris went on to have roles on "Law & Order" and in "Addams Family Values." In 1993, she appeared in an episode of "The X-Files," "Ever," as Dr. Sally Kendrick/Eve 6 and it's a role she's still recognized for today.
"In a diner in LA, I met one of the guys who was a member of Eve 6. He was staring at me and the rest of his table started to stare at me and finally he came over to me and said, 'Are you Eve 6?' I said, 'Uh, yeah,' and he said, 'So are we!'," Harris recalled with a laugh. "He said, 'It was such a cool show and such a great name,' and I thought this was thrilling."
However, Harris said she gets the most recognition for playing Bebe Glazer, Frasier Crane's over-the-top agent on "Frasier," and for the role of Felicia Tillman on "Desperate Housewives." "Usually people don't know that it's all the same person and I really do like that," she said. "When we leave 'Cinderella' and go out to sign autographs ... it's very sweet to see who knows you from what ... It's nice to be recognized ... You realize in 20 more years or five more years, that probably won't happen. It's always very nice to hear nice things about your work or have people say that they enjoyed you in something."
Unlike some actors, Harris isn't afraid to watch her own work. "I tend to watch everything twice because the first time I just go, 'Well, that's pretty darn good,'" she said with a laugh. "Then the second time I watch it and I think, 'Oh my God. That was really bad. That was horrible! What was I thinking? That was just awful!' Then I think someday I'll watch things a third time so I can go back to thinking, 'Oh, that was pretty good.' My initial reaction is, 'Gee, you're so lucky to be doing this and you worked really hard on it.' I think that's pretty funny that it's only later that I think of the things I could've done that would've been better."
In New York, Harris is known for playing Mrs. Meers in "Thoroughly Modern Millie," a role she won her Tony for. The actress said she was more or less prepared when her name was called at the Tonys. The real surprise happened earlier. "The biggest shock was the morning of the announcements, to find I was nominated," she said. "That was really a huge shock to be in the running for something and win is still a shock, but it was ground-shifting to hear I had been nominated, I would say."
Harris has close to 50 TV credits under her belt and a dozen film roles, yet there isn't a defining one amongst them ... yet.
"I wouldn't want to be remembered forever as one character," she said. "I think that's exactly the opposite of what a character actor does, at least in my mind ... I don't think there's a highest representative of my type in parts that I have done. I hope that part's still out there. If there is one, I hope it's still out there."
Click here for more info on Harriet Harris in "Cinderella" on Broadway.