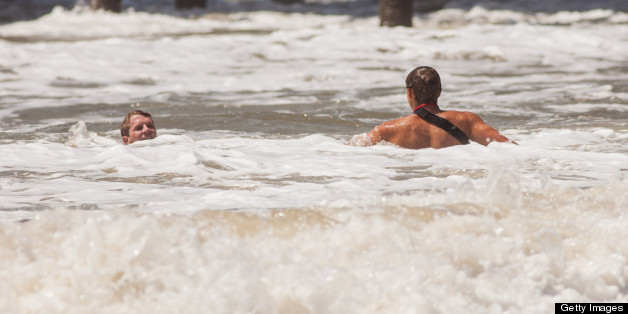 Perilous seas have kept red flags raised along much of Florida's coastline, warning swimmers and rescue workers to be on the alert for deadly rip currents that are expected to continue through midweek.
One swimmer drowned in St. Lucie County and more than a dozen have been rescued throughout South Florida since Friday, officials said.
"It is important to swim within sight of a lifeguard and heed all directions from beach warning flags when at the beach, and to know what you should do if you are caught in a rip current," said Florida's Division of Emergency Management meteorologist Michelle Palmer.
The rip currents are being caused by easterly winds gusting 15-20 mph, typical of the region's weather in March and April. On Monday, the agency issued a warning that rip currents are expected to pose a high risk for swimmers through at least Wednesday.
National Weather Service meteorologist Robert Molleda, based in Miami, said the conditions are on par with spring weather on the beach.
"It's really that time of year again. It's not unusual to see this in the months of March and April, and even into May," he said.
Rescue workers stress: If caught in a rip current, don't swim against it; swim parallel to shore until out of it. If you are unable to escape it, float or tread water, wave your arms and yell for help.
Overall, the deadliest stretch in Florida is between Daytona Beach and Deerfield Beach, according to the National Weather Service. That area isn't protected by the Bahamas, allowing larger waves to form.
In Pompano Beach on Monday, lifeguards were flying yellow warning flags because of hazardous conditions and purple flags because of reported jellyfish. Parts of the beaches were briefly closed Monday morning.
Lifeguards in Pompano Beach said they didn't have to conduct any rescues over the weekend, despite the large crowds that attended the city's annual Seafood Festival on the beach. Rescue workers did record 410 "preventive actions" since Friday.
Such actions include a wide range of measures, from giving swimmers verbal warnings to giving out sunscreen, said city spokeswoman Sandra King.
"It was crazy busy, but thankfully nobody was hurt," she said. "All those preventive actions may have helped."
Fort Lauderdale officials said the same type of preventive measures led to zero rescues reported on that city's shore throughout the weekend. But lifeguards with the city's Ocean Rescue did log 97 preventive actions on Saturday and 188 on Sunday, said city spokesman Matt Little.
Meanwhile, on Monday, other beaches, Hollywood among them, continued to warn swimmers about rip currents.
Many of the beachgoers in Hollywood on Monday morning said they were content sitting by and watching the filming of Telemundo's telenovela "Maridos en Alquiler," or "Husbands for Rent," rather than risk swimming in the choppy waters.
The TV production, which included constructing a tiki bar on the sand along Garfield Street, took place just yards from a red warning flag -- and from where Vermont visitors Leo Grozdanich and his wife Camille took in some rays.
"We weren't planning on swimming today anyway," he said. "This is a bonus."
No major incidents were reported Monday in Palm Beach and Broward counties.
On Sunday, Palm Beach County Fire Rescue reported three separate instances of near drownings involving at least nine people. The victim in one case was hospitalized in critical condition.
In St. Lucie County, a 56-year-old Fort Pierce man drowned Sunday after being pulled away from shore by heavy surf, TCPalm.com reported.
Jose Duran Castanon was swimming with friends shortly before 3:30 p.m. Sunday near the Fort Pierce Inlet when the incident happened, the website reported.
ijrodriguez@tribune.com; 954-356-4605 or @GeoRodriguez on Twitter and Instagram ___
PHOTO GALLERIES
10 Challenges Facing South Florida's Environment