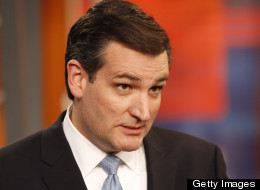 Sen. Ted Cruz (R-Texas) will head to New York City next month to speak at a GOP dinner, Politico reported Tuesday.
Cruz will be the featured guest at the New York Republican State Committee's Annual State Dinner on May 29. The $1,000-a-plate dinner will also feature New York state Senator Dean Skelos and Assemblyman Brian Kolb.
The invitation notes that Cruz "is not asking for funds or donations" at the event.
Cruz, a fiery Tea Party favorite, is one of the most outspoken freshmen lawmakers in the Senate. Last week, he ripped into his fellow Republicans during a surprise appearance at the FreedomWorks Texas Summit, claiming that his GOP colleagues were angry at Cruz and others for attempting to filibuster gun control legislation.
"They said, 'Listen, before you did this the politics of this were great -- the Dems were the bad guys, the Republicans were the good guys. Now we all look like a bunch of squishes,'" Cruz said. "Well, there is an alternative -- you could just not be a bunch of squishes."
Wisconsin Governor Scott Walker (R) will also head to the Empire State next month, when he speaks at state GOP luncheon on May 21.