Cooking For Kids With Sweet Paul Magazine (PHOTOS)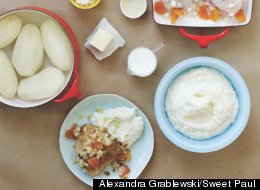 We love Sweet Paul Magazine for their delicious recipes and gorgeous photography. In early spring, we fell in love with their color-coded spring salads and have been making a few of them ever since. For their new issue, which debuts today May 1, they put the kids in charge. In their first ever kids' issue, they're talking great parties, fun craft ideas and, as always, delicious recipes -- only this time, they're kid-approved recipes. But make no mistake, these aren't your average peanut butter and jelly sandwiches -- these kids love to help make lasagna, fish tacos, chicken pot pie and more.
"These recipes are all from real families. They're tried and true dishes that all have a 'kid seal of approval'. No more PB&J for your finicky eaters... just try one of these recipes on for size instead! Best thing is... you can even invite your little helpers to put on their chef hat and contribute to the meal!"
FOOD+STYLING by Paul Lowe | PHOTOGRAPHY by Alexandra Grablewski
Sweet Paul Magazine's "Kid-Approved Food"
"I love making meatballs with my kids, I let them roll them out. They feel good knowing they had a part in the dinner." -- Laura, mom to Anna and Thomas Serves 4 1 lb ground beef 1 carrot, chopped 1/2 teaspoon salt 1/4 teaspoon pepper 25 cherry tomatoes, cut in half a few fresh basil leaves, chopped freshly cooked pasta olive oil 1. Start by mixing ground beef, carrots, salt and pepper. 2. Roll into walnut big meatballs. 3. Fry them golden brown in a little olive oil, they need about 3-4 minutes. 4. Mix with tomatoes, basil and pasta and serve.

"I like sweets and this dinner is like chicken with sweets on it." --Fia, age 6 Serves 4 4-6 chicken thighs salt and pepper 1 cup dried apricots, cut in half 1 onion, chopped 3 tablespoons olive oil 5 large potatoes, peeled 3 tablespoons butter 1/2 cup warm milk 1. Place chicken, apricots and onion in an oven-proof dish. 2. Sprinkle with salt and pepper. 3. Bake at 375F for about 25 minutes, or until the meat on the chicken falls off the bones. 4. Boil the potatoes until tender. 5. Drain and mash with butter and milk. 6. Season and serve with the chicken.

"It's like breakfast only it's really dinner, none of my friends have that ever." -- Samantha, age 5 Serves 4 3 eggs 1/3 cup cream 2 tablespoon chopped chives salt and pepper 4 taco shells 1 carrot, peeled and cut into sticks 1 cup grated mild cheese shredded lettuce 1. Mix eggs, cream, chives, salt and pepper in a bowl. 2. Scramble the eggs. 3. Heat the taco shells in an oven for 2 minutes. 4. Fill with carrots, cheese, lettuce and scrambled eggs.

"I tested out curries with my kids, I want them to grow up loving spices and not just say, I don't like..." -- Eric, dad to Simon and Fred Serves 4 2 tablespoons olive oil 1 onion, finely chopped 1 clove garlic, finely chopped 1/2 inch ginger, peeled and finely chopped 1 teaspoon cumin 1 teaspoon curry 1/2 teaspoon turmeric 1/2 teaspoon ground coriander 1 can chickpeas, drained 1 head cauliflower, cut into pieces and cooked tender 1 cup coconut milk 1. Heat the oil in a pan and saute onion, garlic and ginger until the onion goes soft. 2. Add spices, chickpeas, cauliflower and coconut milk. 3. Let the curry simmer for 4 minutes and serve with rice.

"I love fish and this one has a really nice crust that I always eat first." -- Alexandra, age 7 Serves 4 about 1 lb cod, cut into 4 pieces 2 1/2 cups corn flakes 1 teaspoon salt 1/2 teaspoon pepper 4 tortillas, heated shredded lettuce 1 carrot, peeled and cut into sticks sour cream 1. Rinse the cod in cold water. 2. Crush the cornflakes with salt and pepper. 3. Dip the wet fish in the mixture and press it into the fish. 4. Place in an ovenproof dish. 5. Bake at 375F for 12-14 minutes, or until fish flakes apart. 6. Place fish in tortilla with lettuce, carrots and sour cream.

"Great dish for all the family, we all love it, so easy to make." -- Linda, mother to Ada Serves 4 2 large potatoes, peeled and cubed 3 small carrots, peeled and sliced 1 onion, finely chopped 4 cups cooked chicken, in pieces salt and pepper 1/2 teaspoon dried thyme 1 tablespoon plain flour 1 cup stock 1/2 cup frozen peas 2 sheets of puff pastry, cut in half a little flour 1. Saute potatoes, carrots, onion and chicken in a little olive oil until the chicken changes color. 2. Add flour and mix it into the pan. 3. Pour in stock and stir well. (If it seems too thick simply add some more stock.) 4. Add peas. 5. Roll out the puff pastry in a little flour. 6. Fill 4 ramekins with the mixture and top with puff pastry. 7. Make some holes in the pastry. 8. Bake at 375F until golden.

"I'm getting my own little lasagna, its so cute, I really like cute things." -- Eve, age 5 Makes 6 1 tablespoon olive oil 1 onion, finely chopped 1 carrot, peeled and finely chopped 1 celery stalk, finely chopped 3 cups tomato sauce 10 cooked lasagna sheets 1/2 ball mozzarella, sliced 1. Heat the oil in a pan and saute onion, carrot and celery until onion goes soft. 2. Add the sauce and simmer for a few minutes. 3. Place some sauce in the bottom of a hard muffin tin. 4. Layer lasagna, sauce and cheese. 5. Bake at 375F for about 30 minutes. 6. Let rest 5 minutes before removing from pan.
Want to read more from HuffPost Taste? Follow us on Twitter, Facebook, Pinterest and Tumblr.