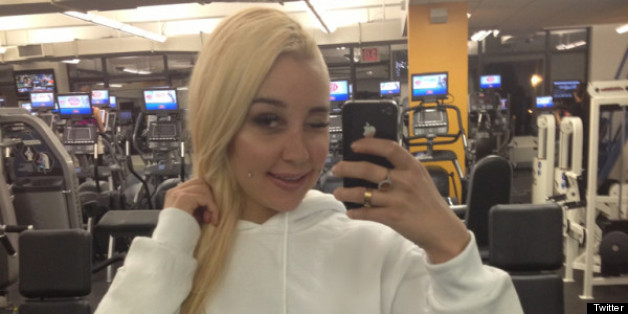 This got some people very concerned.
I just spoke to @amandabynes and she is soooo messed up on drugs and please @ny_police find her and help her! I don't know her address! @tmz
Jenny McCarthy, who happened to see Jaxson's tweet, then tweeted to her over 800,000 followers:
Police are at @amandabynes house. I hope they get her help. Enough of this circus. She needs help.
Jaxson proceeded to write several more concerned posts he has since taken down, among them "I hope she gets the help she desperately needs" and "Thanks to the NYPD and all who helped me." Despite the apparent good deed, the public way in which Jaxson, a publicist, chose to get Bynes help didn't go unnoticed.
Following the backlash, Jaxson tweeted late at night:
If trying to help someone you feel is in trouble is a crime, then there is a problem. A cry for help is just that! I did what I KNEW to do!
I personally decided to delete certain tweets because the last thing I want anyone to think is tonight was about me. It was about another!
This morning, he explained:
Hoping today is a better day. I NEVER did what I did last night for attention. I did it in hopes of saving a life. I didn't have her addy at
first and then got it and called the NYPD again in NYC, who said I had to have a proper address. Amanda has been changing her number weekly.
In addition to hotel hoping and gym hoping. Amanda needed help and I did everything I could and knew to do to help!
Neither Amanda Bynes nor Jenny McCarthy's reps responded to HuffPost's request for comment, but the troubled 27-year-old did tweet her response to the rumors Thursday morning:
@jennymccarthy you're ugly! Police weren't at my house old lady! Shut the fuck up!
@jennymccarthy I need help? What are u talking about? Aren't u 50 years old? I'm 27, u look 80 compared to me! Why are you talking about me?
We will keep tabs on this story as it unfolds.
UPDATE: Jenny McCarthy apologized to Amanda Bynes and Bynes took back all the mean things she said.
@jennymccarthy thanks! I'm sorry I offended you! You're beautiful! I was lying! I'll delete our tweets!
Related on HuffPost:
Amanda Bynes Twitter Pictures
SUBSCRIBE AND FOLLOW
Get top stories and blog posts emailed to me each day. Newsletters may offer personalized content or advertisements.
Learn more