The uninvited plus-one, the drunk, the bride's ex -- you know you've seen a few of these bad wedding guests before.
This funny RSVP card, created by the folks at HappyPlace.com Wednesday, covers every type of awful guest you can imagine having at your wedding. Below, a portion of the RSVP card (click on the image to see the full invite):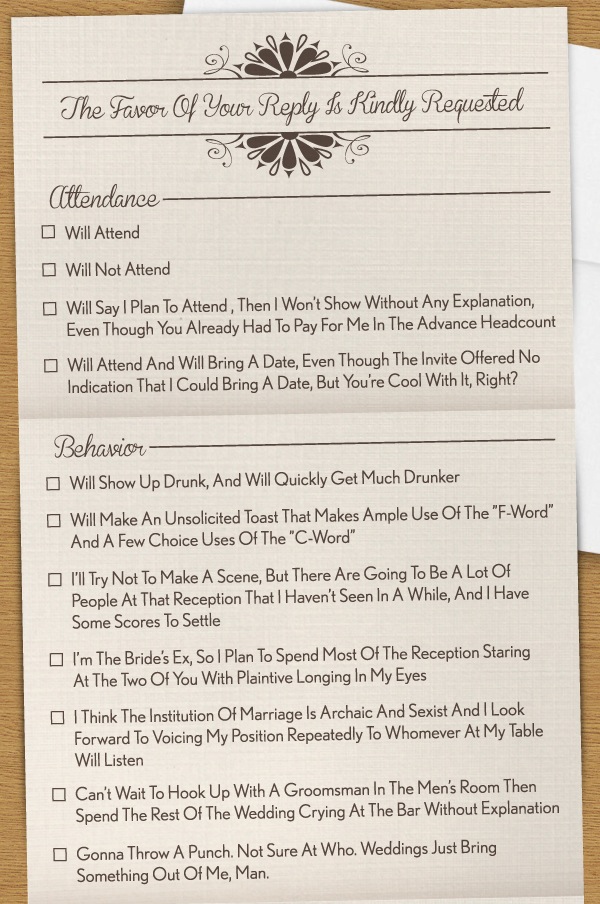 The card above is intended to be a joke, but one bride actually sent her guests RSVP cards that had a similarly sarcastic view on wedding guest etiquette.
In need of some invitation inspiration? Check out real wedding invitations in the slideshow below.
Real Wedding Inspiration: Invitations
@b_tay: We had the most fantastic wedding invitations EVER. Hands down.

"The wedding took place on Nov. 23rd in Dubai, UAE. The design was put together by my husband and I, and was inspired by the mywedding.com template we used for our website (stache kiss). It's not customary to include an RSVP card, but a registry card with bank details for deposits is common practice. We created our own, and also had a personalized rubber stamp made for the envelopes. We used an old typewriter to address the invitations." Submitted by Rania Turk

@TheOpenBarr: for our (Middle) East Meets South wedding October 13

@km0t0: our wedding invite

@melissarochelle: My sister designed our invitations!

Submitted by Ashley Schinzel

@zacharywright

@skincidentally: the #hubby actually picked this one out for our savannah wedding

@LanairBaker

@BrianaMcNulty

@AjoyPDX: here's ours. #putabirdonit

"Save the Dates my fiancé designed for us" Submitted by Andrea Fowler

"Wedding invite! (3 weeks away!)" Submitted by Audrie Paris

"Here are the invitations for our wedding that is happening this Saturday!" Submitted by Tracy St.Pierre

"We had our invitations done by Loft Life Press on Etsy- we loved Rifle Paper Co's invitations and these were the budget friendly alternative :)" Submitted by Amanda Burnett

slickbrad: Our wedding invitations. A message in a bottle. Got married in Negril.
Keep in touch! Check out HuffPost Weddings on Facebook, Twitter and Pinterest.