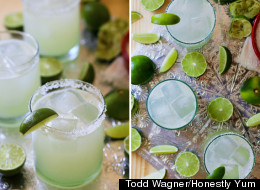 Did you guys feel that? The warm sunshine, the cooling breeze, a shift in our attitudes toward the giddy? We know why -- it's margarita season.
This potent, citrusy cocktail is one of our favorites under the sun. Which is fitting, as it's just about the best thing to sip while you are literally under the sun. Whether you prefer your margaritas cheap and dirty, expensive and sophisticated or somewhere in the middle, we've got a margarita recipe for you to enjoy today. If the only margarita you've ever had has come from a slushy machine, or was bright blue-green, we have to insist that you give the real thing a try. We promise you will never go back.
Whether you use margaritas to celebrate Cinco de Mayo this year, or -- like us -- to celebrate all the warm days, we bet you'll find a new variation in this round-up of some of our favorites.
Want to read more from HuffPost Taste? Follow us on Twitter, Facebook, Pinterest and Tumblr.
Frosty Mexican Bulldog Margarita

Jerry James Stone

The Perfect Margarita

Todd Wagner

Mango Jalapeño Margaritas

How Sweet It Is

4-Can Margaritas

Pip & Ebby

Make Ahead Frozen Chambord Margaritas

SouffleBombay/Food52

Blood Orange Margaritas

How Sweet It Is

Jalapeño Guava Margarita

Pretty Girls Cook/Food52

Strawberry Sriracha Margarita

Domestic Fits

Smoky Mango Margarita With Cilantro

Erica/Food52

Blackberry Lime Margaritas

Gimme Some Oven

Juicy Peach Margaritas

How Sweet It Is

Strawberry Rhubarb Margaritas

Eat, Live, Run

Pomegranate Margaritas

How Sweet It Is

Spicy Pineapple Margarita

Tara Donne