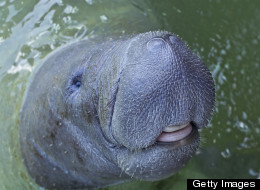 Florida's unusually warm winter has created a deadly situation for the state's beloved manatee population.
Warmer waters meant an earlier than normal algae bloom of Red Tide off Florida's coast, which is toxic when inhaled when sea cows come up for air every 20 minutes.
Red Tide can cause seizures and paralyze the manatees; it's already killed 267 this year, breaking the previous record of 151 manatees in 1996.
Those rescued early have a chance at surviving Red Tide but manatee rehabilitation centers are already full of sea cows recovering from human-related injuries from boat propellers and natural causes like cold stress.
The Save the Manatee Club, which former Florida Governor and U.S. Senator Bob Graham and singer/songwriter Jimmy Buffett established in 1981, is one organization trying to protect endangered manatees.
The Club raises money to protect and rehabilitate manatees through its Adopt-A-Manatee program.
For $25, folks can adopt a manatee living at one of four Florida locations and get an adoption certificate with a full color photo and biography as well as a membership handbook and official Club newsletter.
Each manatee adoptee has a distinct personality: some are shy and like to sleep in while others are playfully mischievous, known for giving researchers little nudges and companionship.
And while manatees can live up to 60 years, the Florida Fish and Wildlife Conservation Commission reports that most Florida manatee lives no where close to that, often succumbing to one of the species' threats before their tenth birthday.
Click below for a few of Florida manatees available for adoption through Save the Manatee Club; more are available on their web site. Also, you can watch manatees in their natural habitat on the Club's Blue Spring web cams.

Save the Manatee Club Adoptees
Margarito was named after the Jimmy Buffett song "Margaritaville." He's reportedly very friendly, often giving those in the research canoe a gentle bump to say "hello." He lost his left flipper after become entangled in monofilament fishing line. And Margarito once followed a specialist investigating a deceased manatee, and stayed with him the entire time.

Annie is an endangered West Indian manatee at Blue Spring State Park. She was rescued from the Halifax River near Port Orange, Florida. While rehabilitating at SeaWorld, Annie met another orphaned calf, Rocket. The two have been inseparable ever since. As Wayne Hartley, the Club's Manatee Specialist, put it: "Annie loves people, and Rocket loves Annie."

Howie is notorious for his antics at Blue Spring State Park. He reportedly once knocked into a canoe of researchers dumping the people and their equipment. Now, whenever he sees a canoe, he bolts and issues a distress call, according to caretakers.

Georgia, who spends her winters in Blue Spring State Park, has had a tough life. As an orphan, she was released into the wild after rebailitaion with fellow manateee Clover, who was supposed to show her how to find food, etc. But Clover soon went rogue and left Georgia on her own. Caretakers also say Georgia's tag sunk underwater, showing puncture signs of a large alligator bite. Despite her woes, Georgia is a character; she once gave a gentle nudge to a swimmer trying to climb a dock ladder and she once swam around with someone's jeans in her mouth.

Ariel is an endangered West Indian manatee rescued from Lake Worth, rehabilitated at the Miami Seaquarium, and now lives at Homosassa Springs Wildlife State Park. Caretakers say Ariel to a bit too hefty at 2,500, nearly twice the size of an average female mantee. They are trying to help her shed some pounds. Ariel is described as curious, lifting her head out of the water to hear conversations, and playful. She once pushed around a shoe of a park visitor that had fallen into the water.

Betsy is Ariel's sister and shows a similar appetite for life. Caretakers say she holds out on carrots to wait for tastier cookie-like vitamin treats. She also reportedly "smiles" at rangers just like her mother Amanda.

According to caretakers, Brutus likes to sleep in, often missing the early morning roll call. Once wake, he's quite social and shows a certain affinity for the female manatees.

Deep Dent is an endangered West Indian manatee at Blue Spring State Park with a "dent-link" scar from a propeller wound on his head. A tad on the shy side, Deep Dent is also known for his wanderlust.

Doc has his winter home at Blue Spring State Park. He's something of a ladies manatee, caretakers reports, often coupling with fellow adoptee Phyllis although he's also been spotted with Dana, Lily, and Lucille. Don't hate the player, hate the game. Caretakers also say he's protective of manatee recovering from injuries.

At home in Blue Spring State Park, Elaine sadly lost two brothers to boat injuries and her mother Emma to unknown causes. She also lost a calf to a boat but now has 4 known calves and 8 grand-calves.

Elsie is known by the nickname 'Fingers' because her tail was mangle in a boat accident and now resembles a human hand. She has five known calves.

Flash is one of the first manatees to arrive at Blue Springs State Park for the winter. He earned his name, caretakers say, because he is quick to startle and will swim away "in a flash" if disturbed.

This manatee got her name due to the scars on her back that resemble a flickering candle.

Floyd only has half a tail after a boat strike. Caretakers note he is playful; he sometimes gives researchers a little nudge from behind, pushing them out of the water. He even nudges himself into other manatees in front of cameras.

Lily, who makes her winter home at Blue Spring State Park, often nurses orphaned calves. She even became a foster mother to a cold-stressed young calf named Foster.

Lorelei was the first manatee ever born and bred in captivity. She was born at the Miami Seaquarium to parents Romeo and Juliet. She reportedly does tricks like barrel rolls when accepting nutritional treats.

Robin is the son of a manatee named Wonder Woman, and he shows some superhero-like courage as well. Caretakers report that when a group of manatees was startled by a loud noise, Robin could be seen calm in the middle of them, working his way back upstream.

Rosie is a big manatee, weighing 2,500 pounds. Nicknamed "the babysitter" of Homosassa Springs, she is known for being gentle, kind, and maternal. She is also known for hogging the "Manatee Salad Bar," where the park's manatees feed.

Squeaky was just born in 2011, and still stays close to mom Amber. Researchers once caught Squeaky trying to scratch her belly on the bottom of a canoe.

Vector got his name because of the large triangular-shaped scar on the right side of his body. He spends his winters cozied up in waters near Tampa Bay's Tampa Electric power plant.