Stella Artois Cidre, a Belgian hard cider, hits U.S. stores in 26 states on May 13 with a national rollout planned for 2014. The cider first debuted in the U.K. in 2011.
The news comes as cider continues to gain popularity in the States. According to market research group SymphonyIRI Group, sales of hard cider for 2011-2012 clocked in at about $90 million. Cider represents just 1 percent of the total beer sales in the U.S., but sales increased by 85 percent at chain and convenience stores this year compared to the year prior.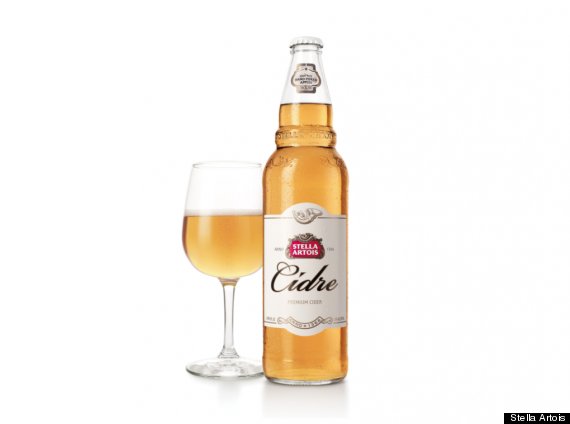 Stella Atrois Cidre joins several other ciders from major industry players on the market. Anheuser-Busch, which owns Stella Artois, also sells Michelob Ultra Light Cider in the U.S., and this spring, Boston Beer Co. released three varieties of Angry Orchard cider.
The Huffington Post gave the cider mostly positive marks during a recent taste test. Crisp and dry, it lacks the outright sweetness that has come to characterize other hard ciders in the U.S. market, like Woodchuck's Amber cider. Earlier this week, Stella Artois's U.S. director, Rick Oleshak, explained to the St. Louis Post-Dispatch that the cider's dryness comes from its European brewing style. He believes it will appeal to white wine drinkers.
Editors detected floral and spicy notes in the cider's aftertaste, which is backed up by the cider's description on the Stella Artois website: "[F]ull flavours of red apple and peachy, apricot hints, complimented [sic] in the background with a subtle flavour of spicy oranges and an almond flowery character."
Most HuffPost editors found the less-sweet cider enjoyable, some preferring it to other ciders on the market. "I've never been able to drink an entire bottle of Woodchuck, it's too sweet for me," said one editor. "But this is a cider I could drink with a meal. I'd finish a whole glass of this." At least one editor, however, wasn't impressed. "This tastes disappointingly like carbonated apple juice," she said.
It's a shame this cider wasn't around when HuffPost Taste conducted a taste test of hard ciders last year. Check out the results below.
Hard Cider Taste Test, 2012
$10/22-oz. bottle Comments: "Beer-like, and I love the subtle maple flavor." "Intense fruitiness, no detectable alcohol taste." "Tastes like a Belgian beer with a slight apple taste." "I love the bubbles! Nicely sweet, a little bitter."

$1.50/12-oz. bottle Comments: "Standard." "Light and easy. I would bring this on a picnic." "Good, solid cider." "This is pretty much what I want in an everyday drinking cider."

$7/22-oz. bottle Comments: "So complex and deep-flavored." "So interesting. Should be sickeningly sweet but really nice and complex." "This is a more complicated cider, but it's too sweet." "Pretty apple-y, a little sweet, but pleasant."

$2/12-oz. bottle Comments: "There's a slight hint of bitterness to differentiate this from juice, but it's still drinkable and delicious." "Started weird, then got quite pleasant." "Tastes like you'd expect cider to taste." "Nicely balanced, very apple-y."

$2/12-oz. bottle Comments: "Wow this is SO GOOD. Sweet and almost peachy." "Very sweet and floral, like spumone." "Super sweet and pear-like." "Sweeter than most ciders. Delightfully fruity. Is this mixed with other fruit?" "Way too sweet. Kind of beery?"

$2/12-oz. bottle Comments: "Juicy, sweet and tart." "Sweet, thick and honey-like." "Nice and dark, feels like a beer -- in a good way." "Tastes like you're biting into a crisp, tart apple." "Kind of tastes like fake apple. Not in love."

$10/22-oz. bottle Comments: "Not super apple-y but not too vinegary either (which is a good thing)." "Nicely balanced and complex." "Thin but fine." "Very, very mild flavor. Why??" "I love this one. This tastes like fall and happiness."

$10/22-oz. bottle Comments: "Perfectly neutral and Champagne-like." "Strangely bland, like a bad pinot grigio." "Almost astringent, would be great in a cocktail." "It almost tastes like Champagne." "Oddly tart. Eh."

$2/12-oz. bottle Comments: "Too tart!" "Smells sweet, tastes extremely sour, like bottled lime juice." "A tinge of apple." "Has this gone sour?" "Love the tartness! A little bitter though."

$13/22-oz. bottle Comments: "Is this bubbly vinegar? It basically tastes like apple cider vinegar, it is too fermented." "Unpleasant smoky taste, like cigar smoke." "Tart." "It's just not that pleasant." "NO NO NO I HATE YOU."

$10/22-oz. bottle Comments: "NO. This tastes like poison and plastic." "This smells horrible but the tastes isn't too bad." "Is this piss water?" "REALLY vinegary smell. This is almost kambucha."

$10/22-oz. bottle Comments: "Yuck! I do not want to drink molasses." "Not quite as bad as it smells." "Too rich and viscous." "This is maybe the most disgusting thing I've ever tasted." "The brown color of this is stressing me out. I hate the smell, hate the taste. Why do we have to drink this?"

$2/12-oz. bottle Comments: "Tastes like formaldehyde." "I don't care for this." "For having such a beautiful rich orange color, it's a little lacking in flavor." "At first I loved it, but then it was a little bland. Smells weird."