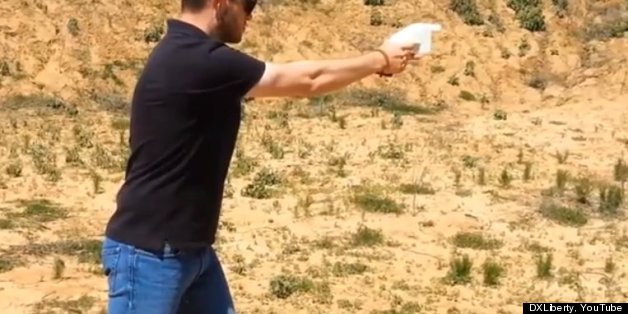 "#DEFCAD is going dark at the request of the SOD Department of Defense Trade Controls," Defense Distributed's founder Cody Wilson Tweeted Thursday morning. "Some shapes are more dangerous than others."
The link to download the blueprint has been replaced with the following: "This file has been removed from public access at the request of the US Department of Defense Trade Controls. Until further notice, the United States government claims control of the information." The state department said that the blueprints may violate U.S. export controls.
The government's move came just days after the "Liberator," as the gun is known, was first successfully fired on Sunday, and the video of someone shooting the gun quickly went viral.
And the order may have come too late. The blueprints for the gun were downloaded about 100,000 times, according to Forbes. And there's nothing to stop those files from being shared again and again.
The government "controls exports of sensitive equipment, software and technology as a means to promote our national security interests and foreign policy objectives," the State Department's website explains. Since these guns could be downloaded and printed abroad, the government views them as a potential risk.
It's worth noting that most people who downloaded the blueprint probably don't have the capability of manufacturing the gun at home. As Forbes notes, Defense Distributed used an $8,000 printer to make their gun. That device is not widely available.
Related on HuffPost:
Creative Uses For 3D Printing
SUBSCRIBE AND FOLLOW
Get top stories and blog posts emailed to me each day. Newsletters may offer personalized content or advertisements.
Learn more