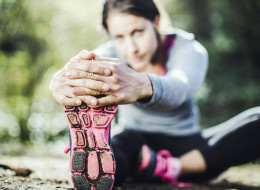 The workout may be done, but the work is far from over. Whether you're checking off your first 5K or an intense strength training session, now is the time to finish strong with a smart recovery plan. For many, this can mean a mix of foam rolling (aka self-myofascial release), stretching, and perhaps even an ice plunge (polar bear club, anyone?). Paired with proper post-workout nutrition and adequate sleep, over time, research shows athletes will recover faster and adapt to more challenging workouts more quickly -- score! To make the most of your recovery time, here are 14 expert-approved tools to help the body recover, rebuild, and get ready for more.
More from Greatist:
Going Gluten Free? 24 Resources To Do It Right
How to Run Your Best Half-Marathon Ever [Infographic]
5 Things That'll Make You Happy From Around the Web
Disclaimer: The below tools are no substitute for musculoskeletal care or the help of a medical professional. For those dealing with overuse injuries, muscle tears, or any other chronic pain or health issues, always consult a medical professional before embarking on a new training or recovery plan.
SKLZ Barrel Roller" width="52" height="52"/>

When a massage therapist is out of reach (or simply out of your budget), consider taking matters into your own hands. Self-myofascial release (or the act of mobilizing the soft tissues on your own) can help relieve muscle tension and improve flexibility, increase range of motion, and reduce the risk of injury. Just remember: The more bodyweight you relinquish, the more pressure you'll feel. This no-frills soft-tissue roller is the first stop along athletes' active recovery program -- no questions asked. The hollow-core construction also makes it super lightweight and portable when it's time to hit the road. Price: $34

Trigger Point The GRID" width="52" height="52"/>

Featuring a multi-density foam grid system for targeted release, extra-knotted-up muscles will find relief on The GRID. The hollowed-out design makes it travel-ready, plus it uses less foam than traditional rollers for some bonus eco-friendly points. Want it even smaller? The new 5-inch GRID Mini is still big on results. Price: $40, The GRID; $25, The GRID Mini

The Stick" width="52" height="52"/>

Coined the "toothbrush for muscles," the flexible massage stick is the essential SMR tool that every runner loves to hate. Be sure to check out the various lengths and flexibility levels for a more customizable recovery session. There's even a model for kids -- and four-legged friends! Price: $24–$54

Trigger Point Cold Roller" width="52" height="52"/>

Why not kill two birds with one roller? For an (albeit pricier) cool down tool, Greatist Expert Kelvin Gary recommends the Cold Roller, which combines self-myofascial release with the anti-inflammatory properties of a cold compress. Though cold therapy in conjunction with SMR hasn't been scientifically-proven to deliver greater benefits than using just one method alone, there should be little harm in trying. Just remember to keep things rolling: Pulled straight from the freezer, the stainless steel device with cold gel center can get extremely cold if held in one spot for more than five seconds at a time. Price: $100

Feeling brave? Forget the bells and whistles and snag some basic PVC pipe for a DIY foam roller. Extra-crafty folks can polish up their product with a cheap yoga mat and plenty duct tape. Voila! Price: Approx. $15

Trigger Point Massage Ball" width="52" height="52"/>

When massage sticks and rollers can't quite hit the spot, it's time to get targeted. These trigger release massage tools provide the same benefits as the devices above, but, thanks to their unique shape and size, can reach all those knotted nooks n' crannies (back, feet and hips -- we're looking at you!). Don't underestimate this little ball of fury. Designed to change shape after applying pressure for five to seven seconds, the massage ball can quickly target the neck, shoulders, chest, back, piriformis and a variety of other minor aches and pains. Price: $20

SKLZ Accupoint" width="52" height="52"/>

Trigger release toys get a whole new makeover with this contoured device. A favorite of Tristan Rice, Performance Manager at Athletes' Performance San Diego, the Accupoint's ergonomic design cradles the spine to aid with mobility, corrective therapy, and apply pressure wherever trigger release is needed. And no need to keep it from Sparkie -- the foam material is surprisingly durable and easy to clean. Price $15

Lacrosse (Or Tennis) Ball" width="52" height="52"/>

Gym rats on a budget: This one's for you. Lying on the floor or standing against a wall, a basic lacrosse ball can help seek out knots and other tough-to-reach rough spots. Of course, the tennis ball works, too -- with just a little more give (phew). Price: $3

Golf Ball" width="52" height="52"/>

Snag a ball from the course to give some TLC to the hands and feet. Rolling the ball between the hands and under the feet will help release tension in muscles that often take more of a beating than we think. Price: Approx. $2–3

Thera-Band Stretch Strap" width="52" height="52"/>

There's a time and a place for active isolated stretching (AIS), and post-workout is it. Using a rope or strap to gently assist with each stretch, AIS reprograms the brain and the body to remember new ranges of motion, increasing flexibility over time. Consider this "Stretch by Numbers." With digits spaced evenly across the multi-loop stretch strap, athletes can easily track improvements to range of motion and flexibility. Plus, with its slightly-stretchy design, the strap can support static as well as contract-relax stretches. Price: $25

Core Performance Stretch Rope" width="52" height="52"/>

Paired with an exercise guidebook from Core Performance founder Mark Verstegen, this 10-foot stretch rope makes AIS a cinch. Just be cautious: The rope should add no more than six to 10 percent to your range of motion, Verstegen says. Price: $18

For those reluctant to shell out for a special stretching device, there's no shame in keeping things simple. Grabbing both ends of an old sheet can provide a quality stretch, says physical therapist Eric Robertson -- without having to leave the bed. Price: $Free!

Remember R.I.C.E.? Even for injury-free athletes, the formula of rest, ice, compression, and elevation still applies. Passive forms of recovery, including ice baths and kicking back in compression gear have been shown to minimize Delayed Onset Muscle Soreness (DOMS) and reduce inflammation post-exercise. Not all athletes have access to a cold plunge. Greatist Expert and Peak Performance Director of Training Dan Trink suggests filling a tall garbage bin with ice and cold water to get the same total-body benefits. Need to sit for this? A bathtub works, too. Hang tight for 10 minutes, Trink advises. Or, for a more targeted approach: a bag of frozen peas or corn can also get the job done. Price: A few tears (we won't tell)

110 Percent Compression Sox + Ice Sleeve" width="52" height="52"/>

Worn on the shins, calves and feet, or on the arms or knees, these double-duty garments provide the benefits of traditional compression gear (increased circulation, reduced inflammation, and faster post-workout recovery), with an extra dose of anti-inflammatory power (hey, reusable ice inserts!). Though it's unclear if using both recovery techniques simultaneously will yield faster results than using just one method alone, expect more research to come on that front. This product get bonus points for moisture-wicking fabric, 360-degree icing pockets, and the ability to wear these suckers on the move. Greatist Expert and professional triathlete Andrew Kalley swears by them, 110 percent. Price: $100 per pair
While there's no magic formula for a DOMS-free existence (trust us, we've tried), there are still plenty of forces within our control to help aid recovery. Proper nutrition, adequate sleep, and smartly scheduled rest days are all key to staying strong, healthy, and injury-free. And, of course, finding the discipline to stick to whatever recovery plan and tools you choose is up to you.
Special thanks to Greatist Expert Mike Reinold and PT Think Tank founder Eric Robertson for their help in verifying this list.
Is your favorite recovery tool missing from this list? Tell us in the comments below!