Chicago Shootings: 13 Wounded, 2 Fatally, In Overnight Gun Violence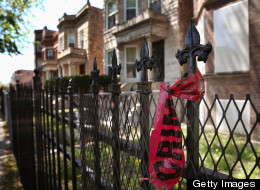 Two people were killed and at least 11 others were wounded in overnight shootings citywide in Chicago.
A 19-year-old man was shot multiple times in the neck and face in the 7700 block of South Damen Avenue around 10:20 p.m. Tuesday, according to the Chicago Tribune. He was taken to Advocate Christ Medical Center in Oak Lawn where he was pronounced dead.
In the evening's other fatal shooting, a 22-year-old man was fatally shot while he drove southbound on the 6300 block of South May Street in the city's Englewood neighborhood around 12:35 a.m. Wednesday, DNAinfo Chicago reports. A 25-year-old man also in the car was also wounded in his left shoulder and treated at Stroger Hospital.
Among those wounded in non-fatal shootings were a 30-year-old woman and 54-year-old man wounded in what police are calling a gang-related shooting in the 2100 block of North Campbell Avenue in the city's Logan Square neighborhood around 8 p.m., according to the Chicago Sun-Times.
Both fatal shooting victims have not yet been identified and no suspects are in custody in any of the overnight shooting incidents as of Wednesday morning.
The overnight bloodshed, much like the 20 shootings reported citywide in just one night late April 30 into May 1, coincided with temperatures in the area surging into the mid- to upper 80s.
The violence preceded the city graduating its biggest group of new police recruits in eight years at Navy Pier on Wednesday. According to ABC Chicago, the rookies will eventually be hitting the streets to staff "Operation Impact," an initiative targeting 20 of the city's most violent "zones" with foot patrols. Police say murders are down 67 percent and shootings are down 50 percent since the program began in February.
But the program has come with a downside: the department's bottom line. In only the year's first three months, the Chicago Police Department burned through two-thirds of its overtime budget for the whole year largely as a result of the initiative.