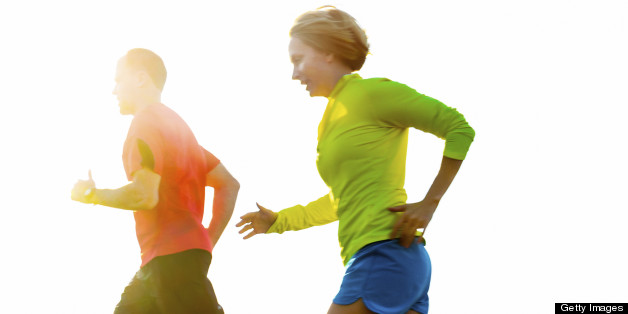 Getty Images
Researchers from the University of Texas Southwestern Medical Center ranked the fitness levels of 9,050 men and women (average age 48). Participants took two fitness tests -- eight years apart -- during midlife. After 18 years of follow-up, researchers compared the fitness information with Medicare claims for heart failure hospitalizations.
"People who weren't fit at the start of the study were at higher risk for heart failure after age 65," said Dr. Ambarish Pandey, M.D., lead author of the study, in a press release. "However, those who improved their fitness reduced their heart failure risk, compared to those who continued to have a low fitness level eight years later."
To conduct the study, researchers relied on metabolic equivalents (METs), a measure of how people do on a treadmill test. For each MET improvement in fitness, partipants' heart failure risk fell by 20 percent. For example, if a 40-year-old went from jogging 12 minutes per mile to running 10 minutes per mile -- a jump of two METs -- that person slashed their heart failure risk by 40 percent, Pandey said.
"Improving fitness is a good heart failure prevention strategy -- along with controlling blood pressure and improving diet and lifestyle -- that could be employed in midlife to decrease the risk of heart failure in later years," Pandey said in a press release.
Earlier on HuffPost50:
5 Foods That Fight Cholesterol
FOLLOW HUFFPOST