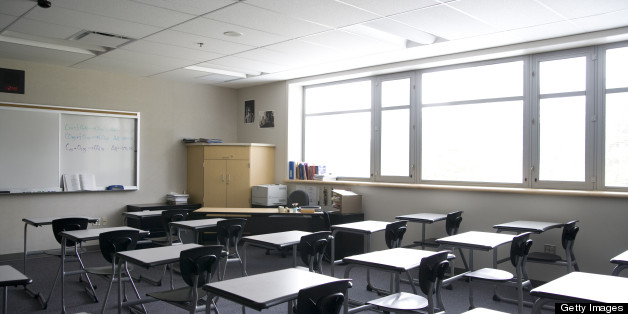 If Earl Haig Public School in Toronto, Ontario, wasn't going to protect Jill Trahan-Hardy's 11-year-old daughter from being bullied, then she would.
According to the Toronto Star, Trahan-Hardy first complained to the school in March that her fifth-grade daughter, Harley Campos, was being bullied in hallways, at recess and during lunch. She pulled Harley from school last week, believing the school wasn't adequately addressing her concerns about bullying.
Harley was offered the opportunity to eat lunch in an office or to change schools, options Trahan-Hardy described to the Star as punishments. Trahan-Hardy only returned her daughter to school this week with permission from the school system to escort Harley around the campus, CTV's Canada AM reports.
"It's ridiculous that I have to do this," Trahan-Hardy told the Star. "Hopefully this doesn't have to go on for the rest of the school year, but if it does, I'll be here."
Ryan Bird, spokesman for the Toronto Public School District, told The Huffington Post on Friday that they do not believe the mother will continue to escort her daughter beyond this week. "If there are any concerns moving forward, the school will have a conversation with those involved," Bird said.
Harley told Global News that it's a little weird having her mom accompany her to recess and lunch, but she does feel safer. However, others don't think it's the best idea.
"It's not helping the child, the kids who bully, or the bystanders," Dr. Faye Misha, Dean of the University of Toronto's Faculty of Social Work, told Global. "It's not helping them learn how to deal with it and that's what really needs to happen."
Karen Finley-Kelly, co-chair of the school council at Earl Haig, told the Star she doesn't think many parents share Trahan-Hardy's sentiment that the school does a poor job handling bullying.
"If [being at school is] what's going to make her feel better, I guess that's OK, but I think the school does a pretty good job on its own," Finley-Kelly said, according to the Star. "I worry that more kids will feel that they will have to do that. I don't like that idea, and I don't think it's necessary."
But Trahan-Hardy insists she must watch out for Harley.
"You do what you have to do to protect your child," Trahan-Hardy told Global. "If I had to go further, I would've gone further. And I'll do anything I have to do to make sure my child's safe."
(h/t mommyish)