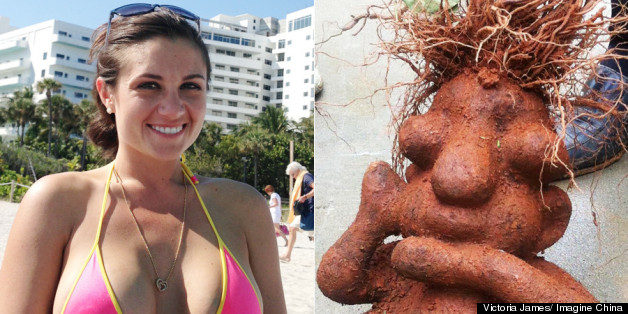 Victoria James/ Imagine China
It seems that the world of Weird News is filled with bikinis, weenies and roots that look like Homer Simpson.
Teacher Olivia Sprauer may have been fired for the swimsuit photos she posed for under the name "Victoria James" two weeks ago, but now she's being courted by lingerie companies, trade shows and Hustler magazine.
HuffPost Weird News didn't shy away from other bodily functions this week, giving the straight poop about Carlos Baca, a 27-year-old man from Port St. Lucie, Fla., accused of fleeing the scene of a small car accident on Monday.
A North Carolina family let it all hang out -- literally -- when they went walking down the street in the buff. Their excuse: The Lord told them to get naked and walk down the street.
Whether the blot looks like Jesus is a matter of interpretation, as is whether the fleece flower root that was reportedly dug up by a pair of farmers in China bears any resemblance to Homer Simpson.
Charles Ramsey, the man credited with rescuing Amanda Berry from accused kidnapper Ariel Castro, continued his rise into iconic status after he was immortalized with his own tattoo and an action figure.
William von Schneidau, a butcher in Seattle, has meat lovers high on the hog after HuffPost Weird News reported that he feeds his pigs marijuana to make them the highest quality possible.
Finally, dog lovers got a kick out of a new new iPhone app, Weather Puppy, which displays different pictures of puppies based on the weather in your area.
What was the weirdest story of the week? If you're not dog tired, scroll through the gallery and vote in the poll below.
Weird News Top 10 (May 12-18)
FOLLOW HUFFPOST