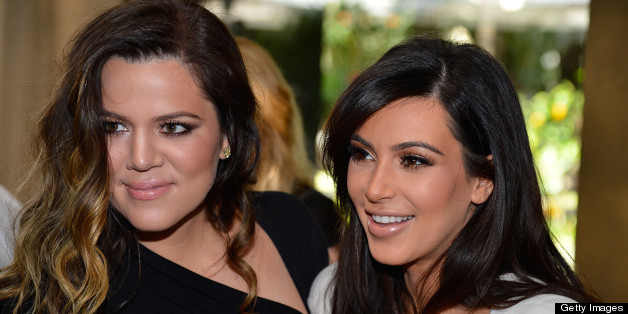 In a letter to her sister, which Kim posted on her own blog, Khloe writes that she finds it "disturbing that society loves to critique a woman's shape no matter how beautiful or happy she may be within herself."
The 28-year-old reality star wrote that Kim's pregnancy should be a "memorable and beautiful" time and the tabloids need to stop being so "careless" with their words.
She went on to commend Kim for not letting cruel comments get the better of her:
I commend you for not putting your head down and going into hiding like so many would. You live your life and you try to make the best out of a tough situation. I need you to know how truly magnificent you are! You may be one of the most beautiful women I have ever laid my eyes on. Your beauty runs deeper then just what some may see. I know the beauty of your soul. Please never let anyone take that from you! It breaks my heart when I see you sad because of the vicious attacks on your growing, pregnant body.
Bible kimmie you are perfect the way you are! This is your life! Your body! Your baby! I wish you could see how you have this pregnant glow and you sparkle everyday! Your belly is fantastic! Kim! You are growing a miracle inside of you! I love you! And I will do anything in my power to protect you! I'm sorry for all that you have to go through but at the end of the day this will only make you stronger. And as usual you will always take the high road! I couldn't be prouder to be your sister!!!"
Also on HuffPost:
Kim Kardashian's Hottest Moments
SUBSCRIBE AND FOLLOW
Get top stories and blog posts emailed to me each day. Newsletters may offer personalized content or advertisements.
Learn more