The Only 40 Egg Recipes You'll Ever Need (PHOTOS)
When it comes to making a quick and nutritious breakfast, egg recipes are the obvious choice. They're easy to make, cheap and will keep you full until it's time for lunch. What more could you want from your breakfast?
But just because eggs are easy, that doesn't mean that you should be making the same egg recipe everyday. Especially when there are so many options when it comes to eggs. Sure, scrambled eggs are good from time to time, but missing out on eggs benedict, frittatas and breakfast pizzas would just be wrong. Here are three standout recipes ... to see more, check out the full slideshow below.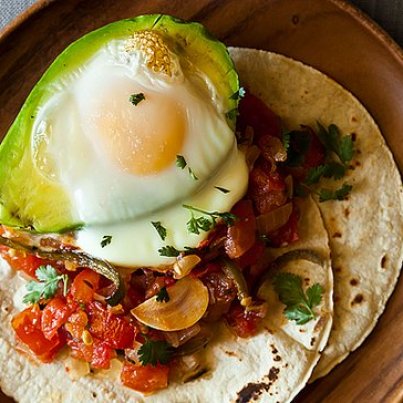 Eggs + avocados are a match made in heaven. Get the Avocado y huevos caliente recipe by Angela @ the well-worn apron via Food52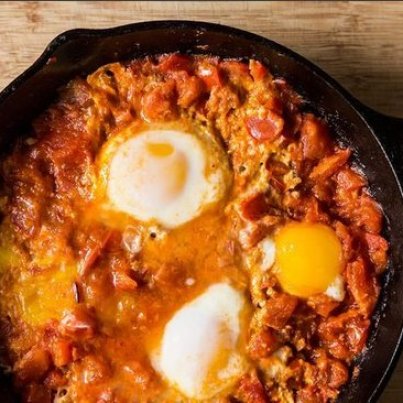 This is shakshuka, which is even more fun to eat than it is to say. Get the Tomato-y, Yogurt-y Shakshuka recipe by Nicholas via Food52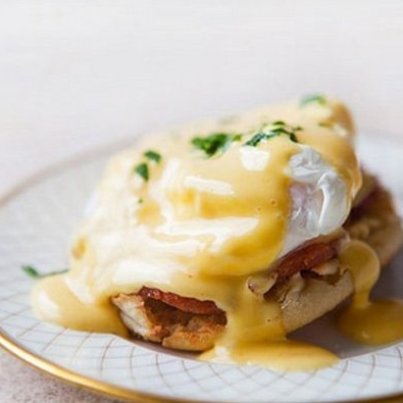 Good old Eggs Benedict may not be good for your heart, but it sure makes it feel happy. Get the Eggs Benedict recipe by Simply Recipes
Petite Pea Omelet With Mint And Mascarpone

James Ransom

Soft Scrambled Eggs

Melanie.Einzig/Food52

Fried Bologna And Egg On Challah Bread

thirschfeld/Food52

Pork And Eggs Breakfast Sandwich

Vickie Marshall

The Green Madame

James Ransom

Avocado Y Huevos Caliente

Angela @ the well-worn apron

Fried Eggs With Asparagus, Ramps And Oyster Sauce

thirschfeld

Chickpea, Spinach And Chorizo Frittata

James Ransom

Tomato-y, Yogurt-y Shakshuka

James Ransom

Unda Bhurji

PistachioDoughnut

Eggs Benedict

Simply Recipes

Migas

OB Cookie

Chickpea, Tomato, And Roasted Red Pepper Skillet Breakfast

Sporkme

Kimchi Omelet

Steamy Kitchen

Grandma's Scrambled Eggs

Foodie Crush

Vegetable Eggs Benedict

JackieK

Quinoa Breakfast Hash

How Sweet It Is

Egg Nests

Simply Recipes

Bacon, Egg And Toast Cups

Steamy Kitchen

Bacon, Egg And Asparagus Breakfast Pizzas

How Sweet It Is

Salmon And Bagel Egg Benedict

Foodie Crush

Tuscan Scrambled Eggs

Simply Recipes

Roasted Tomato And Zucchini Frittata

Foodie Crush

Fontina And Spinach Baked Eggs

How Sweet It Is

Brussels Sprouts Breakfast Hash

How Sweet It Is

Huevos Rancheros

Bev Cooks

Zucchini And Feta Frittata

New Media Publishing

Shrimp Omelette

TASTE

Honey Roasted Potatoes With Fried Eggs And Bacon

Adam Macchia

Bacon, Cheddar And Scallion Strata

New Media Publishing

Bacon, Tomato And Cheddar Breakfast Bake With Egg

Fredrika Stjärne/Food & Wine

Fried Egg Chilaquiles

New Media Publishing

Eggs Baked In Roasted Tomato Sauce

Quentin Bacon/Food & Wine

Huevos Rancheros

New Media Publishing

Grilled Escarole And Fried Egg On Grilled Bread

New Media Publishing

Quinoa Cakes With Mushrooms, Bacon And Sunnyside Fried Eggs

Frances Janisch

Moroccan Baked Eggs With Red Peppers And Spinach

Frances Janisch

Lox, Eggs And Onions Quiche

New Media Publishing

Artichoke-Scrambled Eggs Benedict

EatingWell

Zucchini Breakfast Casserole

Simply Recipes
Want to read more from HuffPost Taste? Follow us on Twitter, Facebook, Pinterest and Tumblr.