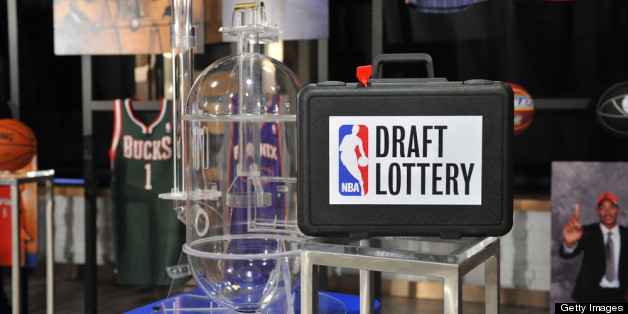 For the second time in three years, the Cleveland Cavaliers landed the No. 1 overall pick in the NBA Draft.
By virtue of posting the worst regular-season record in the NBA this past season, the Orlando Magic had the best chance (25%) of landing the No. 1 overall selection in the 2013 NBA Draft. Above the Magic in the NBA standings but directly behind them when it came to draft lottery odds were the Bobcats (19.9%), Cavaliers (15.6%), Suns (11.9%) and Pelicans (8.8%).
Although they didn't come away with the top selection, the Washington Wizards defied the odds. Beginning the night with the eighth-best chance of winning the draft lottery, the Wiz landed the No. 3 overall pick.
Without further ado, here are the results of the 2013 NBA Draft Lottery:
14. Utah Jazz
13. Dallas Mavericks
12. Oklahoma City Thunder - (Via Toronto Raptors)
11. Philadelphia 76ers
10. Portland Trail Blazers
9. Minnesota Timberwolves
8. Detroit Pistons
7. Sacramento Kings
6. New Orleans Pelicans
5. Phoenix Suns
4. Charlotte Bobcats
3. Washington Wizards
2. Orlando Magic
1. Cleveland Cavaliers
SUBSCRIBE AND FOLLOW
Get top stories and blog posts emailed to me each day. Newsletters may offer personalized content or advertisements.
Learn more