Today, we are sure of one thing: it's going to get hot soon. Really hot. Is your backyard BBQ ready? Is your summer beer ready?
There are days when it feels like beer can't get cool enough. On those days, although we're not particularly proud of it, we'll admit to occasionally adding an ice cube or two to our beer. But we all know that watery beer is depressing beer, and that's why we think this On-Ice Beer Dispenser is kind of a fantastic idea.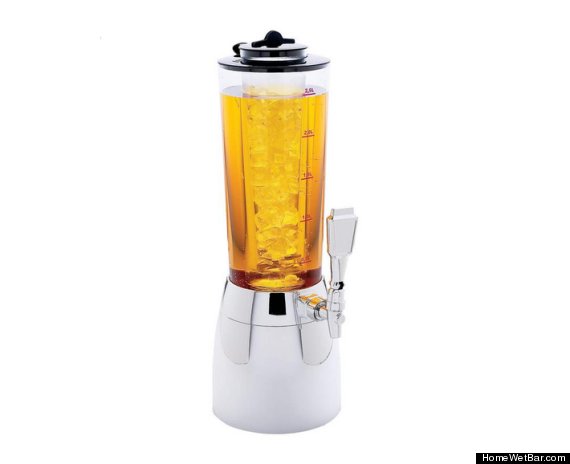 This dispenser holds 80 oz. of beer, sangria or whatever you'd like to keep cold but undiluted. It would also make a really nice gift for anyone who you frequently catch watering their drink down with ice at summer parties. You can pick one of these drink-cooling contraptions up on Home Wet Bar for $41.95. Or just keep watering down your drink -- we're not judging you.
[via Cool Material]
Want to read more from HuffPost Taste? Follow us on Twitter, Facebook, Pinterest and Tumblr.
Also on HuffPost:
Loading Slideshow
#1: Brooklyn Summer Ale

<b>Comments:</b> "This one would be great solo." "Pretty good, not a bold flavor but well balanced." "Hello! I like you!" "Pleasantly bitter." "Stands out a bit from the rest of them. Hit of citrus to start, then mellows." "Sophisticated, floral, hoppy. Nice balance: not too bitter. Very good."

#2: Widmer Brothers Citra Blonde

<b>Comments:</b> "Really pleasant and fruity." "Floral, citrusy and bright. I could drink a LOT of this." "Thin, with a hint of floral." "Great for summer. Light but fun." "A floral nose, but not much taste in the mouth." "Light, not too sweet, flavorful."

#3: Peak Organic Summer Session

<b>Comments:</b> "Super bitter, but fresh and clean." "Great aroma; hoppy taste, drinkable, not too exciting." "Smells floral and hoppy, pleasantly bitter and totally drinkable." "Lightly bitter, lovely floral aroma and aftertaste." "Pleasant, nice level of hops without being overpowering." "Hoppy, fresh and light, without much complexity or depth."

#4: Victory Summer Love

<b>Comments:</b> "Too bitter for me." "Solid, balanced, with just the right amount of hops." "REALLY hoppy aroma. A little too bitter for me." "Very bitter, too bitter for my taste." "Hoppy yet fruity. Could be a good 'intro to hops' beer for someone not used to them." "Very refreshing and crisp, with a clean, citrusy finish." "Smoky with a hoppy finish."

#5: Harpoon Summer Beer

<b>Comments:</b> "Hoppy, bitter and metallic, but with real complexity. A little wintery for a summer afternoon." "Average?" "Easy to drink, not bad." "Easy drinking, pleasant bitterness." "Middle of the road." "Thin flavor."

#6: Narragansett Summer Ale

<b>Comments:</b> "Perfect for pairing with food." "Tastes almost like nothing? There's a little bitterness at the end." " Ah, I like this, but it's a little boring." "Is there honey in there?" "Nothing stands out with this, but it's not bad."

#7: Goose Island Summertime

<b>Comments:</b> "Bitter. Nothing special." "Not bad, drinkable. Tastes like adjunct lager." "This smells strange. A little too hoppy. Don't love it." "Crisp and clean. I'd drink this on a hot day." " A bit boring, but inoffensive and quite drinkable." Sweet, with some banana-y, clove-y notes like a hefeweizen." "Light. Too light. Tastes cheap."

#8: Anchor Summer Beer

<b>Comments:</b> "Good but not very distinguishable." "NOT into this. Smells and tastes a little burned?" "I feel like this could be good for a shandy, but it's a bit boring." "Not nice. Sort of a greasy taste." "Delicious. A lot of flavor, but not too hoppy. CHUG."

#9: Sierra Nevada Summerfest

<b>Comments:</b> "Bitter and clean." "Boring and light, but drinkable." "Too wheaty, but not bad." "Too thin. Flavorless. Bleh." "Kind of neutral with some bitterness. Slight skunkiness at the end." "A good sipping beer."

#10: Blue Point Summer Ale

<b>Comments:</b> "Refreshing, but no real defining characteristics." "Light, but not much flavor." "Light, inoffensive, but kind of unremarkable." "Watery. Not feeling it." "Pretty bland and watery." "Sweet nose on first impression, but a muddy, even dank, finish." "Tastes like flat Bud Light."