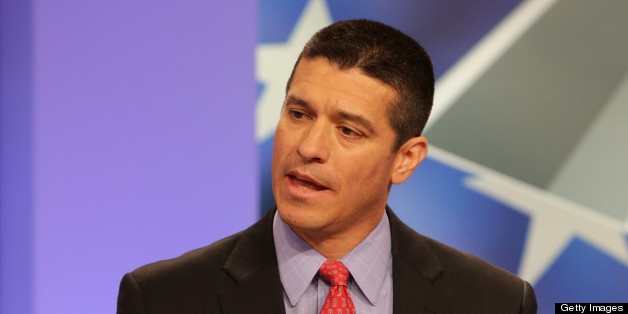 Republican Gabriel Gomez falsely claims his opponent in the Massachusetts Senate race blamed him for the school shooting in Newtown, Conn., and compared him to Osama bin Laden:
Democratic Rep. Ed Markey did release a TV ad saying Gomez "is against banning high-capacity magazines like the ones used in the Newtown school shooting." But that's all it said about the December shooting.
The Markey campaign also produced a Web video that displays an image of Gomez while simultaneously playing part of a controversial film that includes a photo of bin Laden. The Markey video makes the point that Gomez championed a film that "swift boated" President Obama. It does not directly compare Gomez to bin Laden.
Gomez and Markey are competing for the Senate seat left open by former Sen. John Kerry when he became secretary of state. The special election is scheduled to be held on June 25.
Gomez's TV ad, announced on May 21, responds to two ads released earlier this month by Markey's camp. It says "dirty Ed Markey" is "smearing" him in "negative ads."
Gomez campaign TV ad, "Something New": Negative ads from dirty Ed Markey. Smearing Gabriel Gomez. Comparing him to bin Laden. Now, Markey actually blames Gomez for the Newtown shooting. Disgusting. Thirty-seven years in Congress. Dirty Ed Markey.
In claiming Markey "blames Gomez for the Newtown shooting," the Gomez campaign is referring to a Markey TV ad on gun control called "Clear Differences." The Markey ad said that Gomez "is against banning high-capacity magazines like the ones used in the Newtown school shooting." And that is true.
The Markey ad features a clip of Gomez, during an April 21 appearance on WCVB's "On The Record" TV show, saying, "I'm against an assault weapons ban" and "I don't believe that you should have a limit on the high-capacity magazines." (See the video here at around the 5:03 mark.)
As for the bin Laden claim, a Markey Web video called "Meet Gabriel Gomez: Just Another Republican" doesn't make a direct comparison between Gomez and bin Laden. In the video, images of bin Laden appear alongside one of Gomez for about seven seconds — about as long as the image of Gomez appears next to one of the president.
The images of bin Laden used in Markey's Web video were pulled from a 22-minute film produced by the OPSEC group that accused Obama of leaking classified information, jeopardizing national security and politicizing bin Laden's death. At the point in the Markey video where the images of bin Laden are featured, the film's narrator says "killing bin Laden had been a goal for years, but the politicians turned that victory into an intelligence disaster." The image of Gomez came from a 2012 MSNBC interview where Gomez appeared on the group's behalf in order to defend the controversial film.
Also on HuffPost:
Below-The-Belt Political Attacks
SUBSCRIBE AND FOLLOW
Get top stories and blog posts emailed to me each day. Newsletters may offer personalized content or advertisements.
Learn more