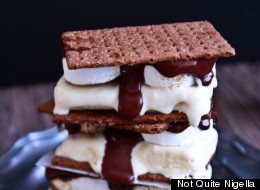 The only thing better than a cookie is two cookies. And when you sandwich those two cookies with ice cream, that's when things start to get seriously good.
The ice cream sandwich really is a genius dessert. Not only does it get rid of the boring waffle cone (sorry cone lovers, but it's time to move on), but it lets you eat two desserts in one. And, we haven't even mentioned flavor combinations made possible by the joining of these two great desserts -- they will blow your mind. Check out the recipes below and you'll see what we mean. One of them is even loaded with Lucky Charms.
Want to read more from HuffPost Taste? Follow us on Twitter, Facebook, Pinterest and Tumblr.
Get the Dark Chocolate Ice Cream Sandwich recipe by The Kitchy Kitchen

Get the S'mores Ice Cream Sandwiches recipe by Not Quite Nigella

Get the Blondie Ice Cream Sandwiches recipe by Cookies and Cups

Get the "Baklava" Ice Cream Sandwiches recipe by Souvlaki for the Soul

Get the Chipwich Thin & Chewy Chocolate Chip Ice Cream Sandwich recipe by Gluten Free On A Shoestring

Get the Raspberry Ice Cream Sandwiches recipe by fiveandspice via Food52

Get the Lucky Charm Ice Cream Sandwiches recipe by The Kitchn

Get the Chocolate Sea Salt Cookie & Dulce De Leche Ice Cream Sandwiches recipe by The Novice Chef

Get the Roasted Peach Ice Cream Sandwiches recipe by Smells Like Home

Get the Nutella Frangelico Ice Cream Sandwiches recipe by Buttercream Blondie

Get the Strawberry Rhubarb Ice Cream Sandwiches recipe by Buttercream Blondie

Get the Waffle Ice Cream Sandwiches recipe by Pass the Sushi

Get the Healthy Ice Cream Sandwiches recipe by amanda

Get the Chocolate Doughnut, Nutella, and Coffee Ice Cream Sandwiches recipe by How To: Simplify

Get the Brownie and Salted Caramel Ice Cream Sandwiches recipe

Get the Ginger Molasses Cookies with Blueberry Swirl Ice Cream recipe by Rosemarried

Get the Lemon Almond Coconut Ice Cream Sandwiches recipe by Good Things Grow

Get the Chocolate Sea Salt Cookie & Salted Caramel Ice Cream Sandwiches recipe by Food Plus Words

Get the Lemon Ice Cream Sandwich Cookies recipe

Get the Raspberry Ice Cream Sandwiches recipe by Good Life Eats

Get the Rosemary Ice Cream Sandwich recipe by Old Brand New

Get the Chocolate Strawberry Ice Cream Sandwich recipe by Lisa Wong Jackson of Good on Paper

Get the Butterscotch Budino Ice Cream Sandwich recipe by Alexandra Cooks

Get the S'mores Cupcake Ice Cream Sandwiches recipe by 52 Kitchen Adventures

Get the Peanut Butter Ice Cream Sandwiches recipe by Cupcakes and Cashmere