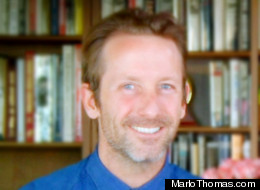 Sometimes, it's best to take things slow. Maxwell Ryan, founder of Apartment Therapy, told me that he likes to live into a space before making design decisions when he dropped by Mondays With Marlo this week. He advises painting your walls a neutral off-white and gradually adding in furniture. Then, you can begin matching colors. If you stay within the warm color family or the cool color family, you won't have to worry about clashing.
Click here for the full interview.
For more on sprucing up your space, see Maxwell's tips for a beautiful home.
Maxwell Ryan's Tips To A Beautiful Home
The easiest way to transform your home for the easy, breezy spring and summer seasons is by giving it a good cleaning. Open up your windows, throw on some gloves and get rid of the clutter and dust that winter leaves behind -- you'll be surprised by how much better your space feels. Then invest in a few new pieces like dish and glassware for summer entertaining, colorful bed sheets or even just fresh flowers.

The first thing people notice when they enter your home isn't whether your couch is several years old or if you have the latest design trends -- it's whether the smell and lighting are inviting. These things help guests feel comfortable. Open up windows and blinds to air out rooms and let in light, keep dust and clutter to a minimum and -- if all else fails -- burn some scented candles.

For social rooms like the kitchen, living room and dining room, go for warm colors like red, yellow, orange. For private rooms -- your bedroom, bathroom and home office -- opt for cooler colors. And remember that dark colors contract, while light colors expand. So if you're hoping to make a room seem smaller or cozier, a darker shade is your best. Choose a lighter color in hallways and small spaces to make them seem larger.

Enjoying the summer time is what outdoor spaces were made for. To give your outdoor space an inviting feel no matter how big the space, invest in a pair of string lights to give the area a cozy feel. Add a colorful tablecloth and outdoor rug to really bring the area to life.

Maxwell sees people make three mistakes frequently. 1. Decorating too quickly, without taking the time to do it right, just to be finished. Take your time selecting pieces -- it's ok to spend several months to "finish." 2. Buying too much furniture. Not only does it add more clutter, but you can always add more furniture if you find it's necessary. Getting rid of it isn't as simple. 3. Thinking of decorating your home as a chore, not as an opportunity to create a space you're comfortable in and expresses who you are. You spend most of your time at home: make it work for you!

If everything in your room matches or it's all brand new, there's no personal expression in your home. Add your personality to your décor. Collect pieces that speak to you -- and don't forget about older items at antique stores, yard sales or even family members.

Most people under light their rooms. Go brighter than you think you'll need, and supplement overhead lighting with table and floor lamps. If you want to add even more control, consider installing dimmers. They require a small upfront investment, but they'll pay off with daily use.

Don't worry about having all the pieces in a room match colors. Maxwell suggests choosing a neutral wall color, and then bringing in vibrant accent pieces, like a colorful sofa or rug. Instead of trying to keep to the same shades, stay within one of the two color families, warm or cool. Warm colors include shades of red, yellow and orange, while green, blue and purple are cool colors. Stick to different shades within the same color family, and you'll never clash.

It's hard to keep your home looking great if you're the only one invested. Instead of nagging kids to clean their rooms sporadically, set a routine. Choose a specific time and day -- Saturday mornings, for instance -- as "cleaning time," and give everyone a job to do.
Add Marlo On Facebook:
Follow Marlo on Twitter:

Weekly Newsletter

Sign up to receive my email newsletter each week - It will keep you up-to-date on upcoming articles, Mondays with Marlo guests, videos, and more!

Sign up here