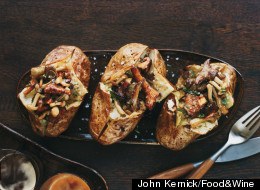 Baked potatoes just might be the best thing you can do to a spud. For one, it's as simple as it gets to cook. Two, they taste amazing -- like one giant French fry that was cooked just right. And that's if you just cook them off the cuff, without a recipe to take it to the next level.
While we like, and often participate, in this type of free-wheeling cooking, when it comes to this baked potato recipe we're happy to follow instructions. Trust us, it's worth it. This baked potato recipe isn't like the others. It doesn't call for sour cream or chives, not even bacon. In most instances that would be a tragic thing to do to a baked potato, but in this case all the fixings are replaced with a mushroom ragu that's so good it'll quickly make you forget the rest.
Get the Baked Potatoes with Wild Mushroom Ragù
Want to read more from HuffPost Taste? Follow us on Twitter, Facebook, Pinterest and Tumblr.
You should also hasselback your potatoes.
Hasselback Potato Recipes
Get the Bay Roasted Baby Hasselbacks recipe from Warm & Snug & Fat

Get the Hasselback Potatoes with Cheddar recipe from She Makes and Bakes This recipe features some of the best tips for ensuring excellent Hasselbacks that we've ever seen. Check. It. Out.

Get the Scalloped Hasselback Potatoes recipe from Fake Ginger

Get the Accordion Potatoes with Rosemary and Garlic from A Beautiful Mess

Get the Buffalo Hasselback Potatoes recipe from Gimme Some Oven

Get the Scalloped Hasselback Potatoes recipe from Sarcastic Cooking Scalloped Hasselback potato + nacho toppings = love.

Get the Cheesy Hasselback Potatoes with Bacon recipe from Baked by Rachel

Get the Hasselback Potatoes with Beetroot and Pepperberry Salt recipe from He Needs Food

Get the Cinnamon Sugar Hasselback Sweet Potatoes with Oatmeal Cookie Crumble recipe from How Sweet It Is We're not sure if this is dinner or dessert, but we're certain it's delicious.

Get the Hasselback Caprese Salad from Fuss Free Cooking Okay, you caught us. This one isn't made of potatoes. But don't you want to eat it??