Want to get married like Elizabeth Taylor? Now you can!
The dress Taylor wore at her first wedding, to hotel heir Conrad Hilton in 1950, will be auctioned by Christie's in London next month, Reuters reported Friday.
The dress was designed by film costume designer Helen Rose and was a gift from MGM studios. It is estimated to be worth about $75,000.
Here's Taylor and Hilton on their wedding day: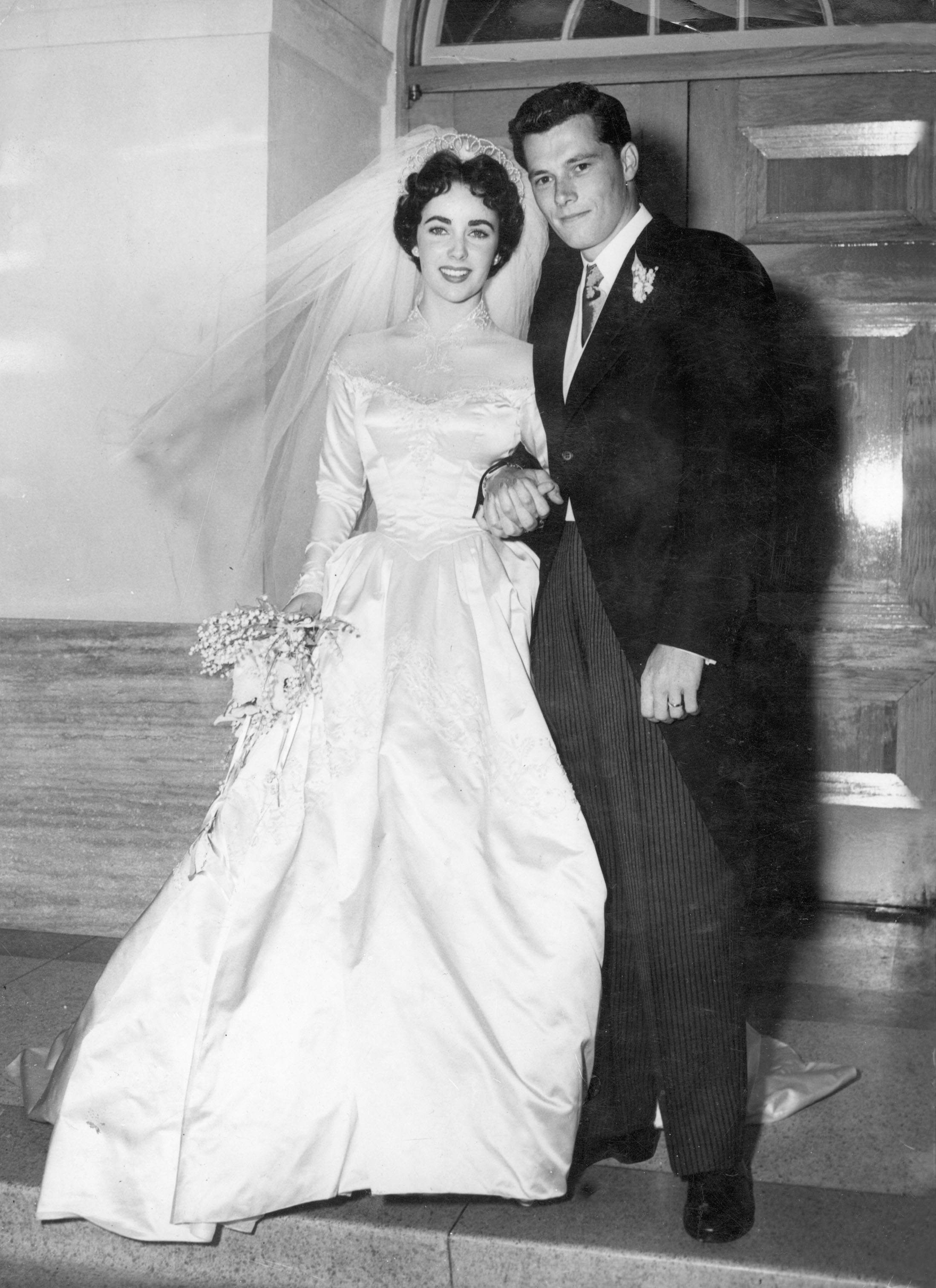 According to the Daily Mail, the dress had a 20-inch waist when then-18-year-old Taylor wore it, but has since been let out to 22 inches.
Taylor and Hilton split eight months after the wedding, and Taylor went on to marry an additional seven times. Click through the slideshow below for details on all eight of Taylor's weddings.
Elizabeth Taylor's Weddings
Taylor wed her first husband, Conrad "Nicky" Hilton, on May 6, 1950 when she was 18 years old (Hilton was 24). Taylor's wedding dress cost $1,500. The wedding ceremony was followed by a three-month honeymoon, and the pair divorced after 205 days of marriage.

Three months after divorcing Conrad Hilton, Taylor married Michael Wilding, a British actor 20 years her senior. At their London wedding, Taylor wore a modest two-piece suit. After two sons and five years of marriage, the two divorced in 1957. Watch a newsreel about the Taylor-Wilding wedding here.

About one week after divorcing Michael Wilding, Taylor married film producer MikeTodd. Todd not only gave her a 29.4-carat diamond engagement ring, but also an antique Cartier tiara now valued at more than $60,000. The two were married in Acapulco, Mexico in 1957, and the union ended a year later when Todd was killed in a plane crash. Todd and Taylor had one daughter.

Singer Eddie Fisher was the best man at Taylor and Todd's wedding. Before Taylor, he was married to Debbie Reynolds. After Todd died, Fisher consoled Taylor, but the relationship soon turned romantic. Fisher quickly divorced Reynolds to marry Taylor, to whom he gave a bracelet made of 50 diamonds in lieu of an engagement ring. The couple was married in Las Vegas in 1959, and divorced in 1964.

Taylor and Burton met on the set of "Cleopatra" and soon began having an affair (both were married at the time). They divorced their spouses and married in a civil ceremony at the Ritz-Carlton Hotel in Montreal in 1964. Taylor wore a short yellow dress instead of a traditional gown. The two divorced in 1974, but remarried in 1975 in Botswana. The ceremony was performed by an African district commissioner, and the "newlyweds" went on a safari for their honeymoon. They divorced for a second and final time in 1976.

Taylor married Republican politician John Warner in 1976, in a sunset ceremony at Warner's farm. They divorced in 1982.

Taylor met construction worker Larry Fortensky during her stay at the Betty Ford Clinic, and the two were married in 1991 at Michael Jackson's Neverland Ranch. Taylor wore a $25,000 Valentino gown to the ceremony, which was attended by celebrity guests like Eddie Murphy and Brooke Shields (as well as the ranch's farm animals). The wedding was surrounded by paparazzi, and Taylor walked down the aisle with Jackson and her oldest son. Taylor was 59 and Fortensky was 39; they divorced in 1996.
Keep in touch! Check out HuffPost Weddings on Facebook, Twitter and Pinterest.