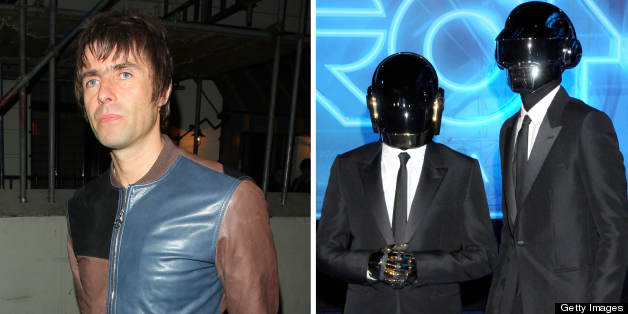 Liam Gallagher is never one to hold back, this time aiming his animus at acclaimed French duo Daft Punk.
Referring to "Get Lucky," the band's popular new song with Pharrell Williams, Gallager spewed some vitriolic remarks during an interview with Sony's MU streaming service: "I'd write that in a f—ing hour. I don't know what the fuss is about, you know what I mean? It's like, f— off, give me a f—ing break."
"I am not going to have people wear disguises," he said. ""Take your f—ing helmet off. Let's see what you look like sans helmet, whatever you're called."
Naturally, Daft Punk weren't the only much-loved recording artists Gallagher paid mind to in this latest interview. "My arse is better than Beyonce's," he claimed.
Beady Eye, Gallagher's current band, will release their second album June 10. Both Beyonce and Beady Eye will perform at the V Festival in August.
SUBSCRIBE AND FOLLOW
Get top stories and blog posts emailed to me each day. Newsletters may offer personalized content or advertisements.
Learn more