Obama Forgets To Salute Marine, Awkwardly Makes It Up To Him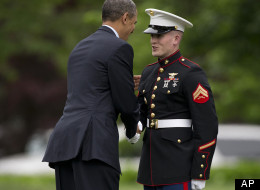 President Barack Obama forgot protocol while boarding Marine One en route to Annapolis, Maryland, CNN reported on Friday.
Obama did not salute the Marine standing at the bottom of the helicopter while boarding. Upon realizing the faux pas, the president jogged back down to shake hands with the Marine and spoke privately with him before entering the helicopter again.
Obama may have had plenty on his mind, as he was on his way to speak at the U.S. Naval Academy graduation, just a day after delivering a major speech on national security, drones and the detention center at Guantanamo Bay.