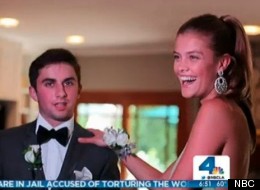 Dreams do come true. When LA high school senior Jake Davidson made a YouTube video asking Sports Illustrated swimsuit model Kate Upton to prom, we were all holding our breath.
The 17-year-old's video went viral and Upton retweeted it, saying she'd check if she's free and "How could I turn down that video!" But, she did turn it down, saying she had a movie to work on that night.
However, a stunning Danish supermodel, Nina Agdal, stepped up to make Davidson's night, NBC reports in the video above. Agdal, known for eating a charbroiled cod fish sandwich on the beach in a Carl's Jr./Hardee's commercial, went with Davidson to the Milken Community High School prom Thursday night at the Annenberg Community Beach House in Santa Monica.
"It was a surreal experience," Davidson said Friday morning. "I'm so grateful her people reached out -- a once-in-a-lifetime experience."
"She's 5-9 without heels, and she was wearing some pretty big heels, but I think we rocked it well," said 5-foot-9 Davidson. "We had a bunch of stuff in common. We talked about her modeling, traveling, where she's lived." He said the night ended with a hug before he "sent her on her way."
"I told her anytime she's in LA she can look me up and we can go out to dinner," Davidson said.
Clearly, long gone are the days of simply asking someone to prom in the hallway before class. Now, promposals take place on YouTube, through flash mobs, serenades and stuffing lockers with hundreds of Ping-Pong balls.
Check out some of our other favorite promposals:
One teen in Connecticut took advantage of the historic Northeast blizzard back in February and made a snow sculpture of the word, "PROM?" for his girlfriend. With a little help from his girlfriend's brother, the two worked on the project overnight so that she woke up to the sculpture outside of her window on Valentine's Day morning.

High school senior Nicole Muxo recently made an elaborate YouTube video asking Dwayne Wade to her prom -- she even wore his jersey. The basketball player hasn't given Muxo an official "yes" or "no," but he has responded! "I haven't even seen it, but I'm flattered."

Max Whitmore was brave enough to ask Victoria Justice to be his prom date. Even though the "Victorious" star can't attend the actual prom she responded to the teen with a question of her own -- will he go out to lunch with her the next time she's in New York? The answer, of course, was yes.

Jake Davidson's promposal for Kate Upton collected over 2 million views on YouTube, and even got Kate to respond on Twitter! "@JakeDavidson23 you can call me Katie if you want! How could I turn down that video! I'll check my schedule ;)"

One teen from Baltimore, MD decided to sing the lyrics to Jason Mraz's "I'm Yours" to his future date in the busy hallways of their high school and record it on video. He even changed some of the lyrics to: "Hey Sofia, I want you to know that I met you about six months ago. You made me some large fries. They were the best fries of my life."

One teen serenaded his date-to-be with a chorus full of friends on stage to "Hooked on a Feeling." Lyrics like, "I can't stop this feelin', deep inside of me... Girl, you just don't realize, what you do to me..." won her over.

A teen asked his high school crush to the prom by wearing extra short gold shorts and twerking in front of the school. But this same teen stripping and dancing in the vid says, "It's more of a satire of people just people asking to prom. You've seen some of the best 'yes' videos and it's like they're asking them to marry them or something. It's silly and outrageous."

One girl was led outside after school to find her boyfriend leading a flash mob to "Suit & Tie" before handing her a bouquet of flowers and getting down on one knee to pop the big question.

A YouTube user uploaded a video of her boyfriend's promposal to her -- a video compiled of 867 pictures taken that spell out "PROM?" in Post-it notes. Talk about a commitment!

One teen surprised his girlfriend with a slideshow projected in the school cafeteria, followed by a live dance performance with friends who spelled out the question, "Prom?" on their T-shirts.

One teen from South Carolina made a music video that shows him running to school with music playing in the background, and at the end of it he walks into her classroom playing the song on the guitar himself. He even rejects a phone call and prom invitation from Taylor Swift at the beginning of the video.

This video shows a group of high schoolers brainstorming possible promposal ideas and deciding to make up their their own music video to "What Makes You Beautiful" and "Live While We're Young" inspired by One Direction. We wonder what their dates said...

In this video, one teen held up a sign that read, "I finally had the balls to ask you to the prom!" after also writing the question, "Prom?" on 456 Ping-Pong balls stuffed into his date's locker. She said yes!

With a little help from his friends, one teen danced to a mashup of Miguel's "Adorn You" and Marvin Gaye's "Let's Get It On" in front of everyone in the cafeteria. His girlfriend was sitting front and center, and received a bouquet of flowers at the end of the video.

This teen asked his friend to the prom by performing "Can't Take My Eyes Off Of You" in the school cafeteria. Talk about a keeper.

This teen decided to get creative and rap his own words to the beat of rapper Notorious B.I.G.'s "Big Poppa." He even changed the lyrics around especially for his date, saying things like, "I promise to give you the greatest day, on the 17 of May."

Another teen used Miguel's "Adorn You" as background music to an originally choreographed dance, but only after she completed a scavenger hunt.

One teen managed to get a teacher to hand-out fake pop quizzes, and his date's test looked different than everyone else's -- she had to answer if she would go to the prom.