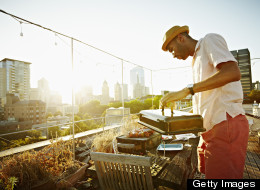 If you're out cleaning your grill in anticipation of this weekend, you aren't alone. Memorial Day is the second-most popular holiday for barbecuing, according to the Hearth, Patio & Barbecue Association. And while everyone likes to celebrate, some health-minded folks hear the word "barbecue" and fear a recipe for over-indulgence, like cheese-smothered burgers, mayo-laden slaw and giant bowls of chips. But all is not lost for those who want to celebrate wisely.
The good news for those who are planning to cook out this Memorial Day weekend? It is possible to do so in a way that won't detract from your summer shape-up plans -- and can even offer a number of health benefits to boot.
So skip the processed meats and brownie bites and check out the true superstars of your typical barbecue below. Then tell us how you keep a cookout healthy in the comments below.
Skip the chips and serve yourself an ear of corn as a side for that burger, suggests Dawn Jackson Blatner, RDN, CSSD, LDN. The high-fiber food also contains a good deal of water, making it a hydrating pick as well as a snack that will keep you full on fewer calories.

Top your burgers with a few slices of this summer staple for its cancer-fighting nutrient, lycopene. Research suggests that the compound, an antioxidant that gives tomatoes and other fruits and veggies their bright hues, may be particularly helpful in fighting prostate, lung and stomach cancers, according to the American Cancer Society. Tomatoes are also rich in fiber, potassium and vitamins A, C and K, all for very few calories.

You might not find seafood at every cookout, but if you're at all considering cutting back on meat, look no further. The American Heart Association recommends eating at least two servings of fish a week, and particularly seeking out fatty options like salmon or tuna. Both are rich in heart-healthy omega 3s -- and can easily be grilled as steaks or burgers!

'Shroom burgers aren't only for vegetarians! Using a portobella as a "patty" instead of meat cuts back on fat while still supplying protein and a range of vitamins, plus some fiber. Can't say no to the meat? Try some mushrooms as a burger topping. Even if they come from a can, you'll get some potassium, iron, fiber, protein and vitamins B6 and D, among other nutrients.

Surprise, surprise -- this fruit is loaded with, you guessed it, water. In fact, watermelon is 92 percent water, the Chicago Tribune reported. It's also a great source of vitamins A and C, with over a third of your daily recommended intake of each in just one wedge. Not to mention having some as a dessert may help to at least partially quell your sweet tooth, says Blatner, keeping you away from the ice cream sundaes.

Another burger topping we love! Throw a few slices on for protection against heart problems and possibly even prostate cancer. The red variety packs the antioxidant quercetin, also found in apples, which acts as an anti-inflammatory and an anti-histamine. Onion is also a very good source of vitamin C, and pack tons of flavor for so few calories, says Blatner.

Sure, when it's drowning in mayo, cole slaw isn't a smart bet. But the star ingredient -- cabbage -- is better for you than you might think. A low-calorie source of fiber, vitamin C and potassium, cabbage falls into the same cruciferous veggie family as broccoli, Brussels sprouts and kale, says Blatner. "Its brothers and sisters are these superfoods we talk about it. Cabbage is sorely underrated."

Unlike other white foods, like pasta, rice and bread, white potatoes are naturally that color. People tend to group them in with the refined stuff, which gives them an undue bad rap, says Blatner. Since they haven't been refined to be white, potatoes are a good pick. Not only do they contain more fiber than a bowl of oatmeal and more potassium than a banana, she says, they're also easy to fire up on the grill and top with salsa or chopped chives.

Of course, not all greens are created equal. And the most nutrient dense leafy veggies -- like kale -- aren't your typical cookout fare. But even if you can't find anything dark green on the patio table, a few leaves of more traditional iceberg or romaine have some nutritional perks to offer. Adding even just a small handful of greens to your burger is a smart move, since just about every variety boasts fiber, calcium, iron and vitamins A and C, all for very few calories, and lots of water, says Blattner. "The classic burger toppings -- lettuce and tomato and maybe even onion -- that's one of the few all-American things that are naturally healthy," she says.