The U.S. is one of the wealthiest countries in the world, and yet nearly one-quarter of the nation's residents recently said they had trouble putting food on the table over the past year, according to a survey from the Pew Research Center. That's a unique position among wealthy countries, and more in line with countries like Indonesia and Greece, the latter of which is currently battling rampant unemployment.
(Scroll down to see a chart of the survey's findings from Pew)
Income inequality has become a familiar part of American life over the last half-century. The bottom 90 percent of Americans saw their incomes grow by just $59 between 1966 and 2011, according to an analysis from Pulitzer Prize-winning journalist David Cay Johnston. Over that same period same period, the average income for the top 10 percent of Americans rose by $116,071 on average.
If you look at the Pew Research Center's chart, you'll see that the U.S. has a bigger hunger problem than many other less-wealthy countries: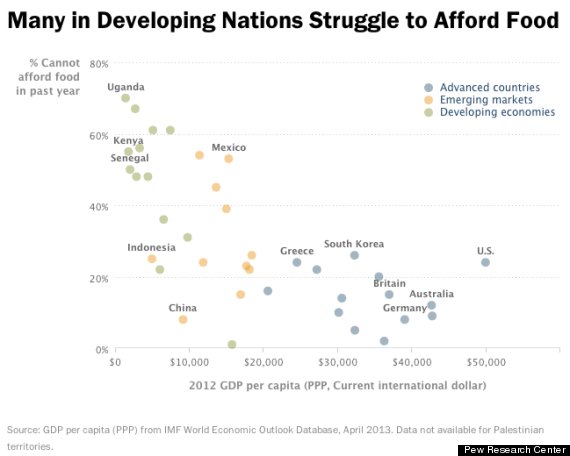 Also on HuffPost:
13 Devastating U.S. Numbers About Poverty, Income And Health Insurance
SUBSCRIBE AND FOLLOW
Get top stories and blog posts emailed to me each day. Newsletters may offer personalized content or advertisements.
Learn more