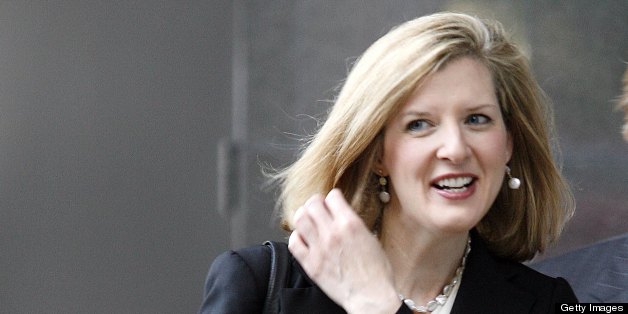 Getty Images
Ruemmler first attracted attention for her glam heels as a Justice Department prosecutor trying Enron executives Ken Lay and Jeffrey Skilling in 2006, when she sported what The Wall Street Journal described as "stunning 4-inch bright pink stiletto spikes."
Notice how the article's author, Juliet Eilperin, mentions Ruemmler's work on the Enron case as a passing detail -- a context clue, as they used to say in SAT prep -- included to orient us to the moment when she was first celebrated for her heels.
She was talking on the Senate floor about the burdensome cost of higher education... The cleavage registered after only a quick glance. No scrunch-faced scrutiny was necessary. There wasn't an unseemly amount of cleavage showing, but there it was. Undeniable.
On Twitter, New York Times reporter Annie Lowrey tweeted:
And Irin Carmon wrote in her response piece on Salon:
The Washington Post is still one of the country's major papers, there are still far too few women in positions of power in the city it mainly covers, and at a time when Ruemmler is in the spotlight for whether she did her job right, the shoe chatter is simply undermining and trivializing.
The Washington Post article goes on to emphasize that Ruemmler's taste in shoes is high-end, adding materialism to the list of qualities it seems to value in the former U.S. prosecutor. After quoting the blog Above the Law -- "Just because you work for the DOJ doesn't mean you have to shop at DSW" -- the article reassures us, "Now, she wears Manolo Blahniks and Christian Louboutins into the Oval Office."
Phew.
[h/t The Awl]
FOLLOW HUFFPOST